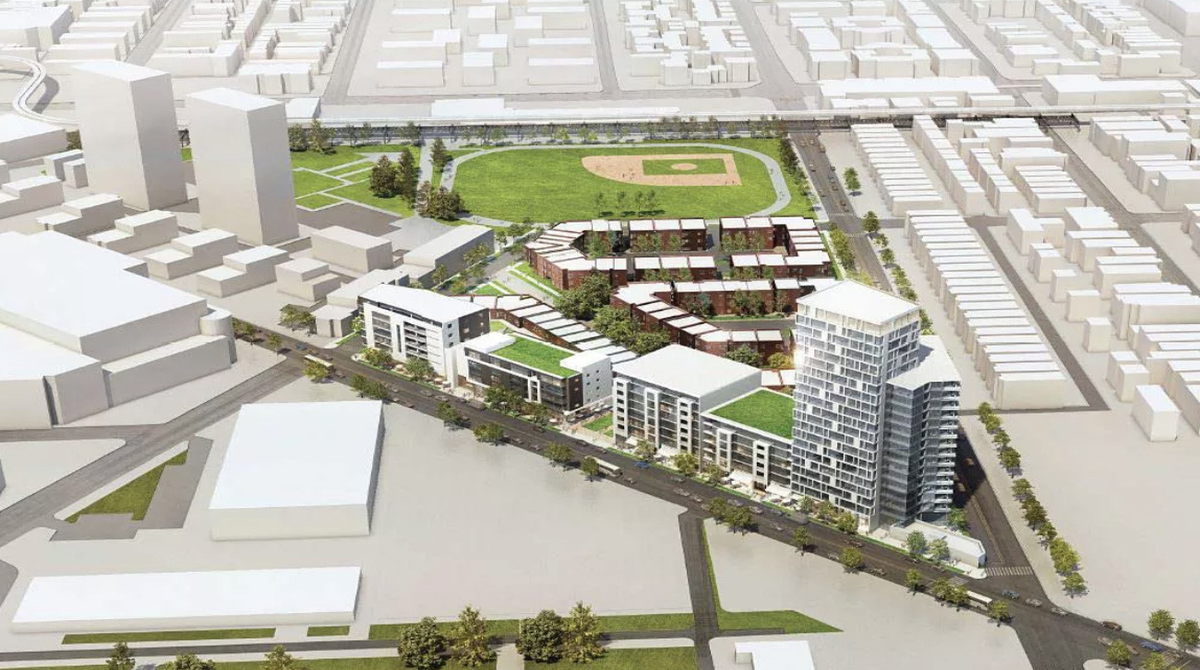 The Cabrini-Green housing complex is looking for city approval in the next phase of their ongoing redevelopment. This proposal will entail building a 500 unit, mixed-income project at the northwest corner of Clybourn Avenue and Larrabee Street on a 6.3 acre, wedge shaped parcel that was once part of the Near North Career Metropolitan High School per Chicago Curbed.
Hunt Development Group was picked from a list of five prospective bidders to lead the project one year ago. Hunt will partner with local developer Imagine Group and have filed a zoning application with the Chicago City Clerk. The multiphase plan will start with a 19 story, 238 foot tall tower. The next phases will include a pair of mid-rise apartment buildings fronting Clybourn followed by townhouses facing Larrabee. The project was designed by Gensler Chicago.
482 apartment and townhouse units will be built at Clybourn and Larrabee and 217 of them will be offered at market rate. 82 units would be affordable-rate with the remainder going to residents on Chicago Housing Authority waiting lists.

According to the Chicago Housing Authority, they will work to continue to transform the historic Near North Side community and build on their previous success at creating a vibrant, mixed-income neighborhood for families. They are committed to bringing new housing and opportunities for residents to this neighborhood.
The board also approved long term Project Based Voucher contracts that will preserve affordable rental housing at three properties and will ensure long term affordability and rent stability for some of the city's lowest income renters.
Per Chicago Curbed, the upcoming development will be very different from the area's public housing towers that were demolished in 2011 and will have a more granular look similar to nearby examples such as Parkside at Old Town and Brinshore's proposal at Oak and Larrabee.
The surrounding area has experienced an influx of new-market rate housing as downtown's building has pushed into the Near North Side. The Chicago Housing Authority is working with private developers to fulfill its obligations to return 700 public housing units to the neighborhood. Recent projects that have sprung up include New City, The Xavier, Niche 905, Old Town Park and North Avenue's Father and Son Plaza.
DataBid is reporting on this project - CHA Three Cabrini Green Sites RFP (0056010816)
Posted by Judy Lamelza