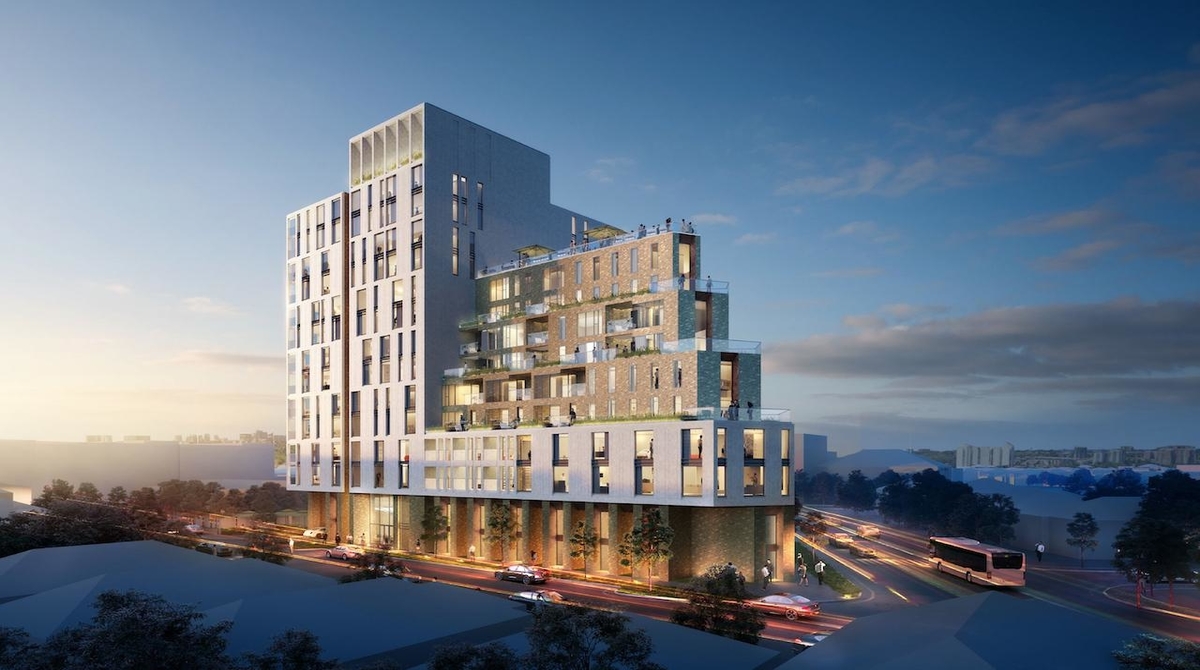 Trolleybus Urban Development is planning to build a 14 storey residential development that will contain a total gross floor area of 15,679.3 M2. There will be no retail or commercial involved.
The Quadrangle designed building will consist of two volumes - a rectilinear massing rising 14 storeys and a smaller massing rising nine storeys with a series of stepback forming terraces. The terraced section forms a wedge shape to correspond to the acute angled intersection at Keele and Yore Road according to Urban Toronto.
The building will consist of the following:
- 216 condominium units
- 110 one-bedroom
- 84 two-bedrooms
- 22 three-bedrooms
- Three level 99 space underground garage
- 77 parking spaces for residents
- 21 visitor parking spaces
- 221 bicycle parking spaces (199 long-term and 22 short-term)
The estimated completion date is still unknown.
Per Condo Promo, this condo development is located at 1860 Keele Street in the vicinity of a Crosstown station and just north of the future Keelesdale Station.
The area is a mix of single-detached and semi-detached dwellings containing rental units and is surrounded by shopping, dining and entertainment. Schools are nearby and parks include Bert Robinson Park, Turnberry South Park and Sadra Park.
According to Condo Now, the demand for housing in Toronto has increased annually and the supply just can not keep up. This is a positive sign for investors looking to take advantage of a red-hot Toronto real estate market. Toronto is a growing city, with a vibrant cultural scene. There is always something to see and do, making it a very exciting city to live work and play in.
DataBid is currently reporting on this project - 1860-1868 Keele Street Apartments - Toronto (0003020520)
Posted by Judy Lamelza