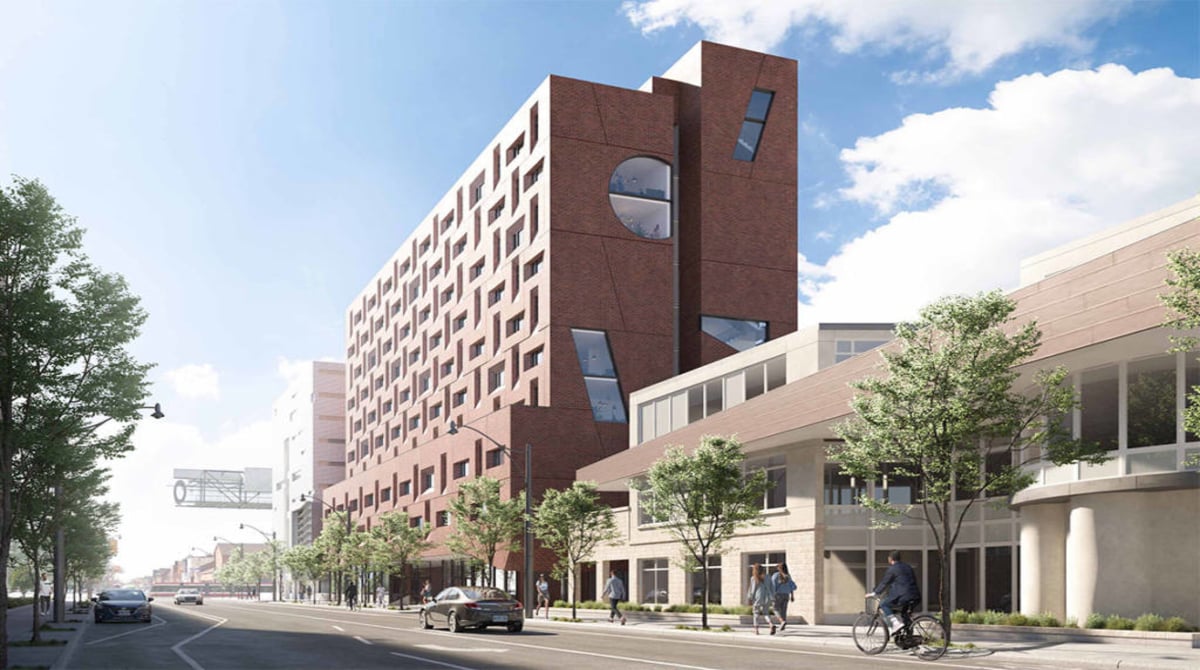 The University of Toronto has proposed a 10 storey building to provide housing for over 200 graduate students and also for expanding living, social and study spaces on it's St. George campus. The brick Harbord Residence will have a mix of dormitory-style and single-occupancy rooms and still needs to be approved by the university's governing council. It will also feature a bridge that will connect it to the neighbouring Graduate House according to Construction Canada.
Los Angeles-based Michael Maltzan Architecture is designing the building and will be executed along with Toronto's ArchitectsAlliance.
Get Qualified Leads in the Ontario Market from DataBid
Currently, demand for graduate student housing is more than double the number of available spaces so you can see why this will be a very welcomed addition.
The building's upper levels would house the residential space and smaller lounge spaces for the use of residents of both Harbord Residence and Graduate House. The second and third floors would consist of the following:
- Common Lounges
- Meeting spaces
- Residence life offices
- Study rooms
The food court and retail space would be on the ground floor and would act as the interface between the building and the surrounding Huron-Sussex neighbourhood.
"One of the things we wanted the architect to do for us was to have the ground plane be a more welcoming place for the broader community - for our neighbours and other University of Toronto community members to come in."
University of Toronto's Assistant Vice-president of Ancillary Services | Anne Macdonald
The design of study spaces in the building would take into account that more and more students do work in groups, especially graduate and second-entry students. These group spaces will be available and shared between both Harbord Residence and Graduate House.
DataBid is currently reporting on this project - UT St. George New College Residence III Student Spaces Architectural Services (0015092419)


Posted by Judy Lamelza