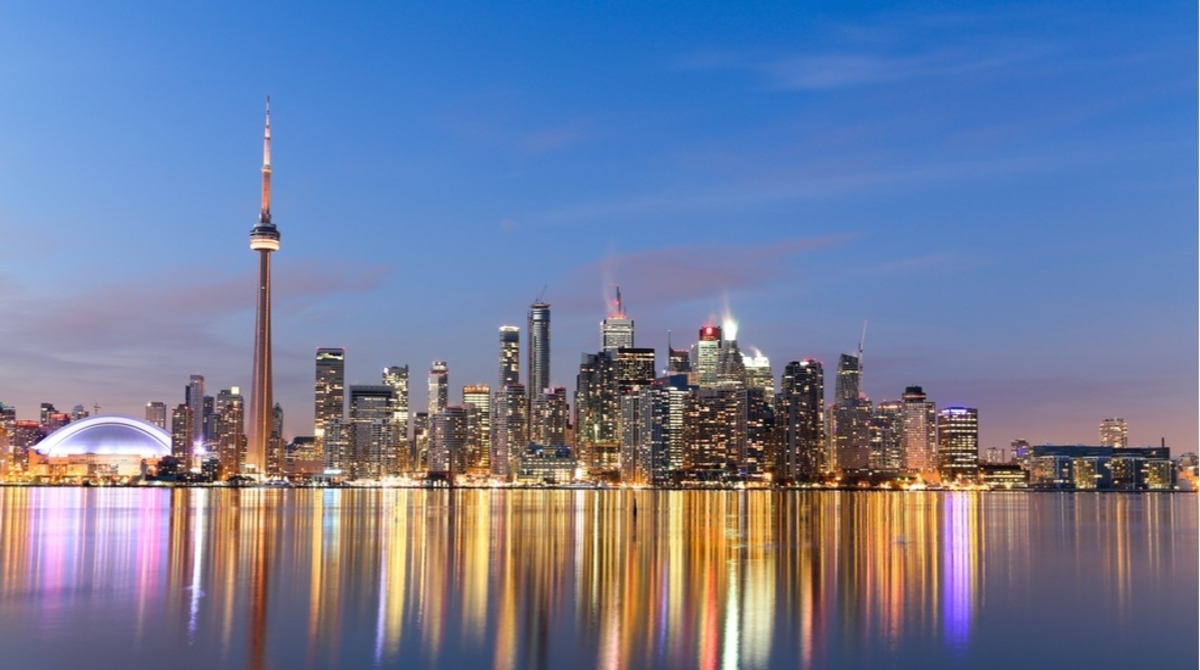 Commercial construction in Toronto is booming and shows no signs of stopping. Developers are seeing good returns on investment, particularly with high-density residential projects. The city has become one of the top five tech talent markets in North America. Developers have been very busy using up whatever vacant sites, or vacant historic buildings are available and turning them into mega developments. The following is a list of 10 of the largest major projects in Toronto under construction:
1. The One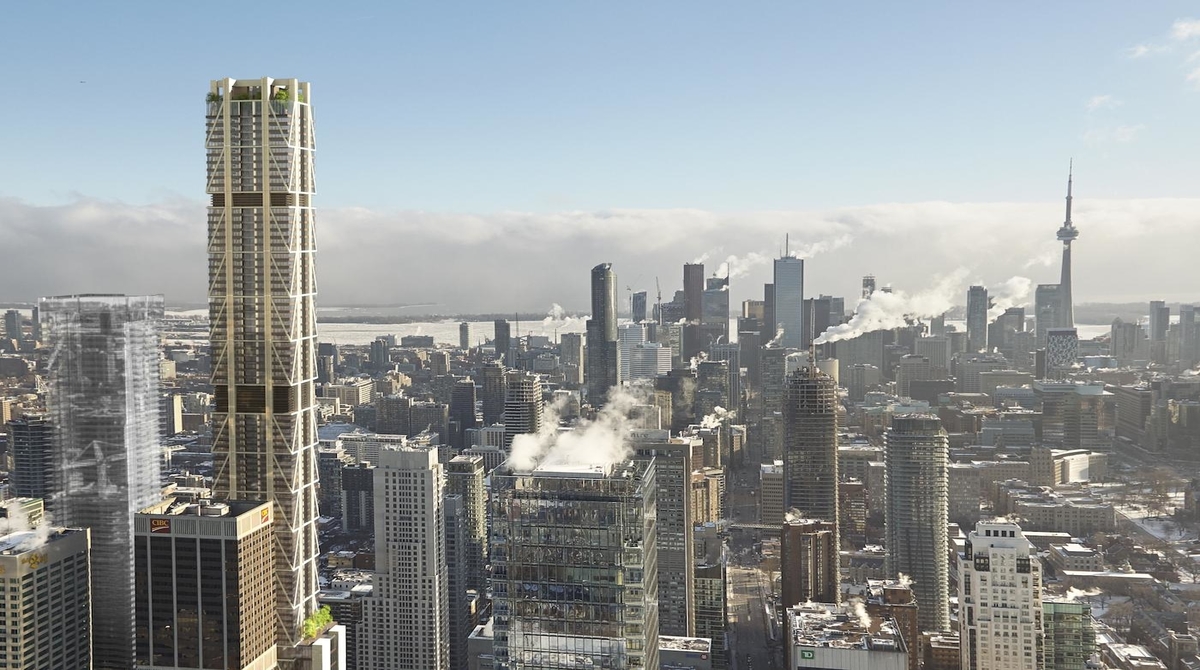 The One, at 1 Bloor Street West, is an 85 storey condominium, hotel and retail tower by Mizrahi Developments and designed by Foster + Partners with Core Architects. When completed, it will be taller than First Canadian Place, which has been Canada's tallest building since 1976.
Mizrahi Developments and hotelier Hyatt are announcing they have come to an agreement on which brand of luxury boutique hotel will operate in this masterpiece building. The Andaz Toronto Hotel will occupy floors 4 through 16 of the 309 metre tower and will offer 160 luxury rooms including 15 luxury suites plus more than 12,000 square feet of event and conference space, food and beverage offers, a spa and more. Opening is expected to be in 2022 along with the condo residences.
2. 33 Yorkville Avenue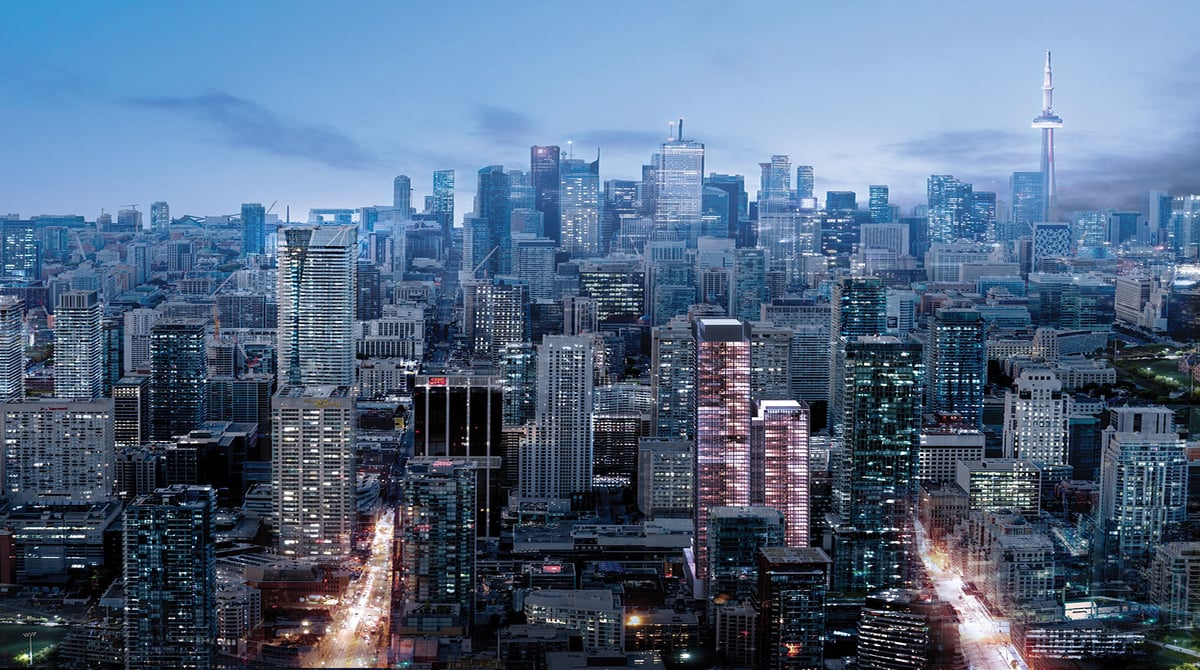 33 Yorkville Avenue in Toronto by the Cresford Development Corporation was designed by architectsAlliance. It is a conjoined tower development with sections reaching 68 and 44 storeys. It will have a total of 1,109 condominium units and a Toronto Parking Authority garage below grade with 800 parking spaces.
The towers are located at the corner of Bay Street and Yorkville Avenue. The two glazed towers will have an eight storey podium with grade level retail. Construction is scheduled to be completed in 2022.
3. 1 Yorkville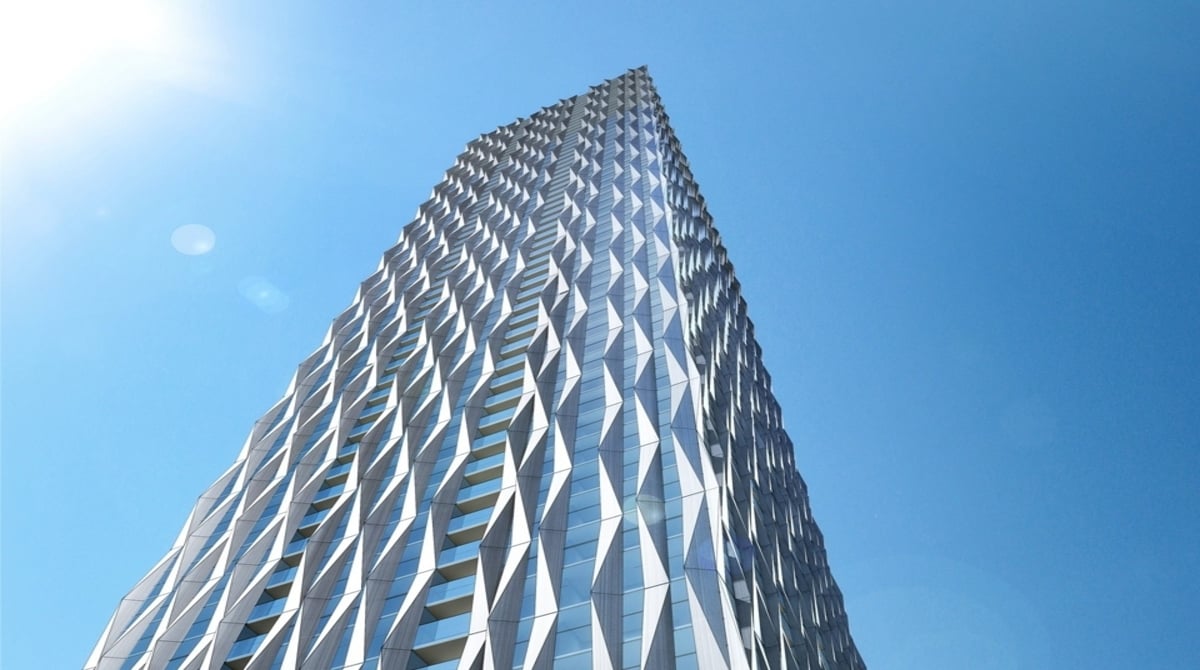 1 Yorkville is a 58 storey condo tower by Bazis and Plaza and will have 577 units. The architect is R. Varacalli and ERA Architects.
The structure is being built above the fully restored Yorkville Village buildings that date to the 1860's. The retention of not just the graceful historical facades but the entire original structure of the 19th century buildings were kept in tact. This is where the condominium's boutique retail will be housed.
4. 19 Duncan Street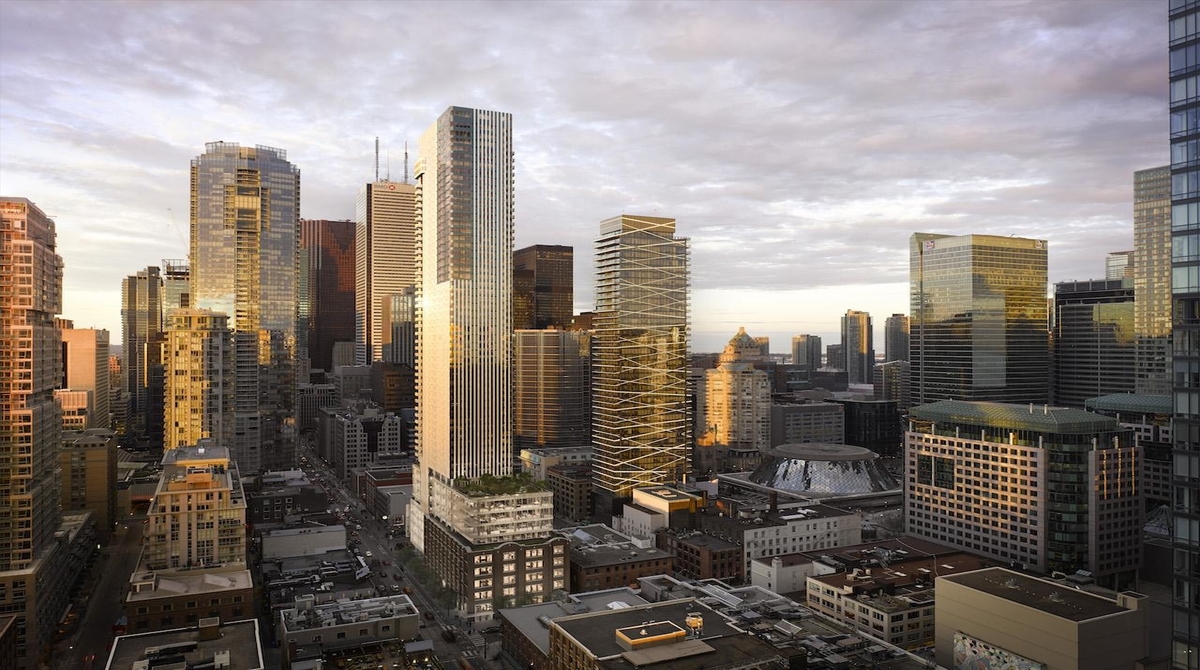 19 Duncan Street is a 58 storey tower designed by Hariri Pontarini Architects. The building will be a mixed-use office and residential rental project from Westbank Corp. and Allied Properties REIT in Toronto's Entertainment District. The facades of the heritage buildings were retained and incorporated into the new building's podium. A modern addition will rise above the heritage facades and will emphasize the difference between the old and the new.
News media company Thomson Reuters has signed on for a 12 year lease at a cost of $100 million with the new office space to house 1,500 employees. Thomson Reuters is expected to assume occupancy in early 2021.
5. 2221 Yonge Condos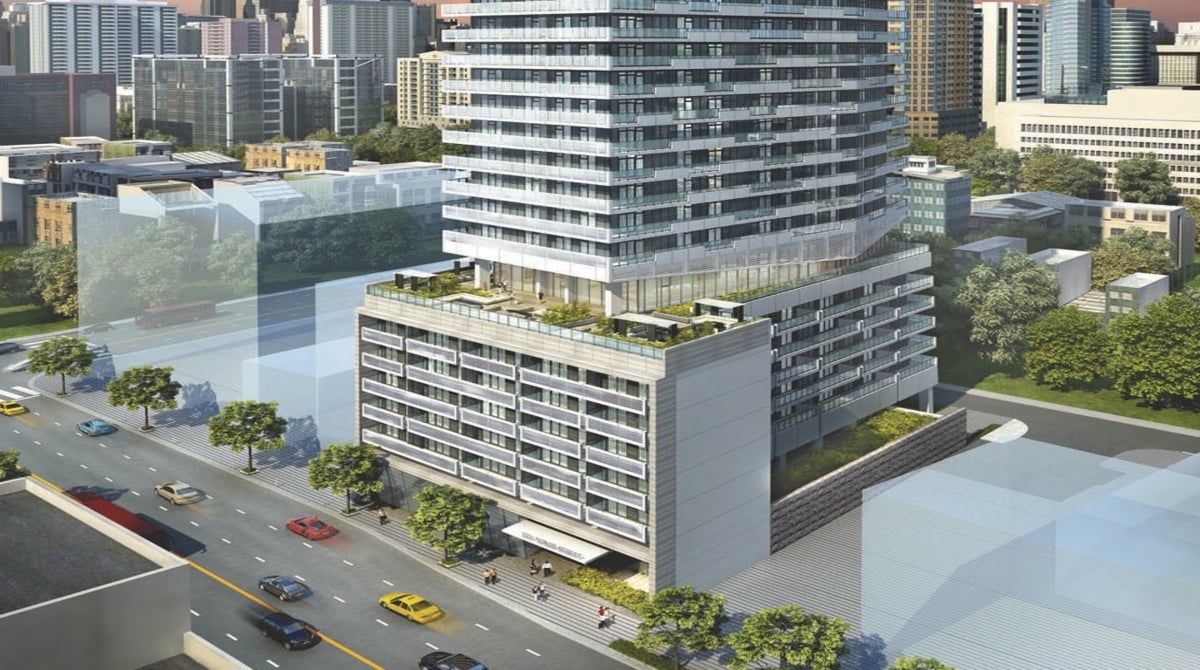 2221 Yonge Condos is a new condo development by Tower Hill Development Corporation currently under construction at 2221 Yonge Street in Toronto. The development is scheduled for completion in 2019. It is 58 stories tall and has a total of 566 units.
The building was designed by Quadrangle Architects and Li Chung Pei of Pei Partnership Architects. The tower's design is unusual due to the fact that it sits askew from the six story podium to create interesting pockets of outdoor space. There is retail space on the first floor of the building.
Learn about all the Mixed-use Projects coming up for bid in Toronto
6. Vita on the Lake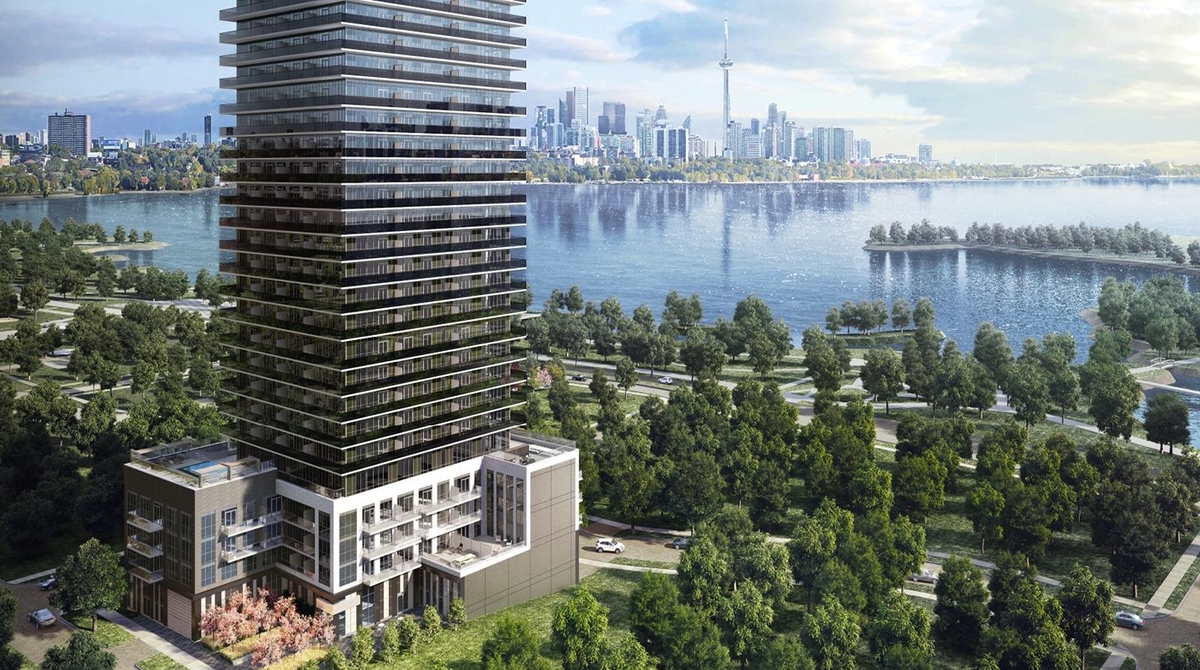 Vita on the Lake is a 53 storey waterfront condominium overlooking Lake Ontario, downtown Toronto and the natural surroundings of the Humber Bay Park. The building is one of two that are planned for the site and will offer residents a wide range of condos from 390 square feet for a studio to a large 2 bedroom plus den with up to 1,970 square feet.
The site is located at 2161-2165 Lake Shore Boulevard West and completion is scheduled for 2021. There are 489 units in the first building. Matamy Homes and Biddington Group are the developers and the architects are Graziani + Corazza Architects.
7. 160 Front West Office Tower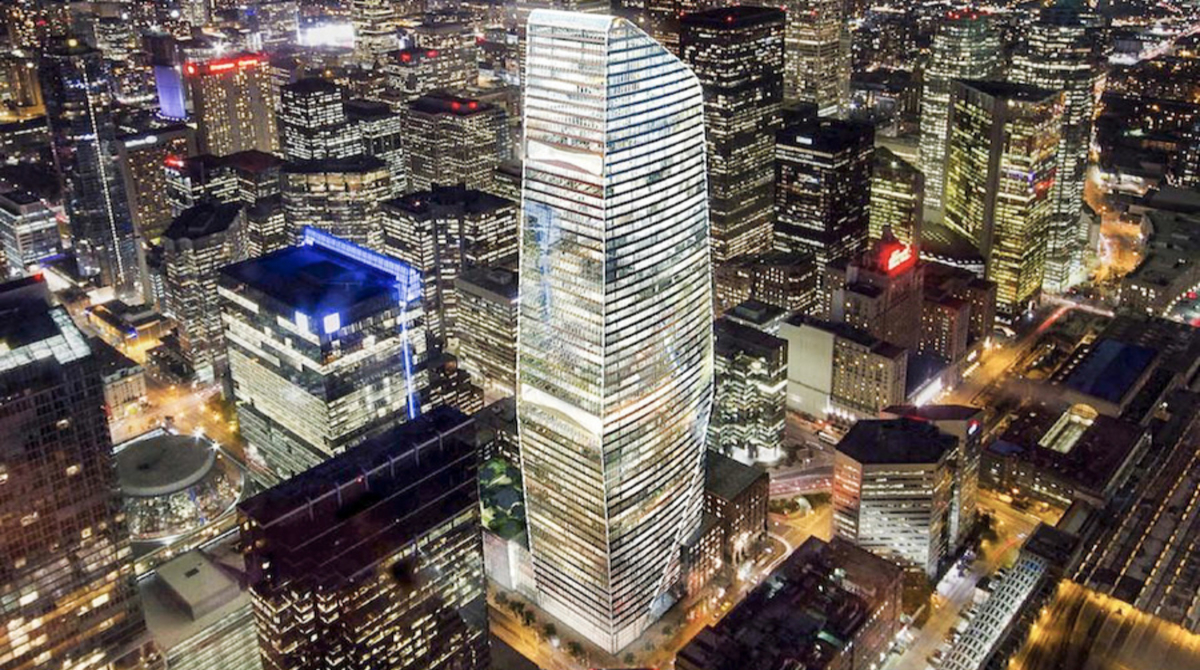 Cadillac Fairview's 160 Front Street West office tower in downtown Toronto was initially proposed in 2011. After years of evolving through the planning approval process, the 46 storey tower is finally being constructed. It was designed by AS+GG Architecture with B+H Architects.
It is located at Front and Simcoe on a site that consisted of a surface parking lot and a heritage office conversion. The facade of the heritage building will be retained. The overall building height will be 46 storeys and will contain 134,766 square metres of commercial floor area including at-grade retail space along Simcoe Street.
8. 357 King West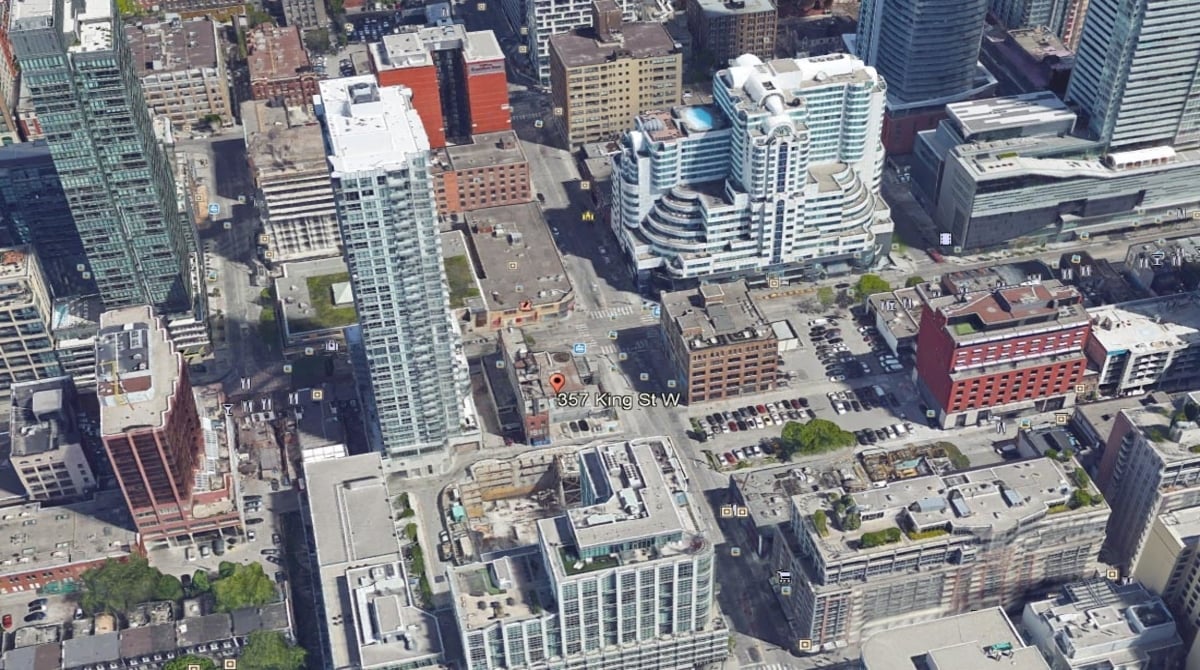 357 King West is a new condo development by Great Gulf that is currently under construction at 357 King Street West in Toronto. The tower is 42 storeys high and has a total of 324 units. The scheduled completion is in 2021.
The building was designed by Quadrangle Architects. There will be a three-level underground parking garage. The building's 42nd floor will be equipped with lounges and a private dining room with a catering kitchen. A variety of indoor and outdoor spaces for both formal dinners and relaxed gatherings will also be available. There will be 12,000 square feet of retail space on the first and second storeys of the building.
9. 150 Redpath Condos
150 Redpath Condos was developed by Freed Developments and Capital Developments in mid-town Toronto's Yonge and Eglinton neighborhood. The building was designed by ArchitectsAlliance and is 38 storeys tall and has 543 units. The development is scheduled for completion in 2019. This is also the second and final phase of Freed's RedPath series.
There is a rooftop pool and cabanas along with a fire pit retreat and outdoor dining with BBQ's. A sports bar style lounge equipped with a golf simulator, a spa and steam room are also included.
10. 100 Queens Quay at Sugar Wharf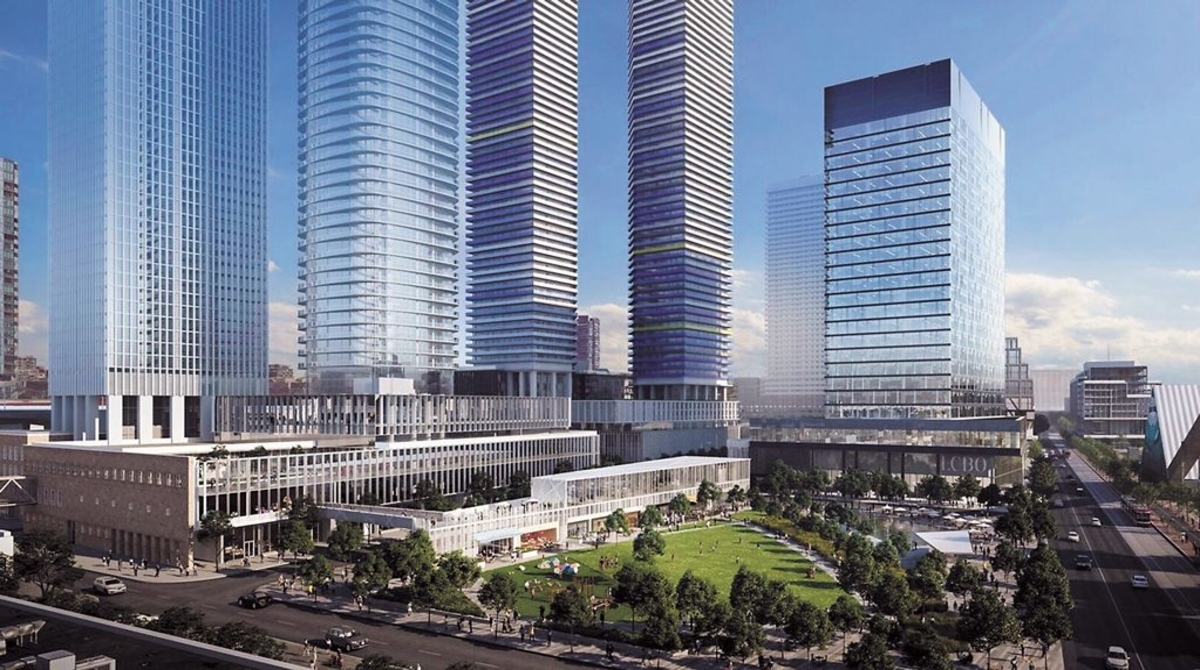 Construction is proceeding on both residential and office components of Queens Quay East at Sugar Wharf in Toronto. Menkes Developments is the developer of this project which is located in the East Bayfront at the northeast corner of Queens Quay East and Freeland Street. Sugar Wharf will be the largest mixed-use development on the Toronto waterfront and will be home to 7,500 residents and 4,000 office workers.
Sugar Wharf will extend over 11.5 acres and will include luxury residences, offices, restaurants and shops and Toronto's first vertically integrated school. The residential part of the community was designed by architectsAlliance and will include five condominium towers ranging in height from 64 to 90 storeys and a mid-rise rental building. In addition to the 25 storey office tower, the community will also include 300,000 square feet of multi-level commercial retail space, including the new flagship LCBO store. The office tower should be completed in 2021 and the residential towers is slated for 2022.
The One
DataBid is currently reporting on this project - The One Mixed Use Condominium - Toronto (0011102814)
1 Yorkville
DataBid is currently reporting on this project - 1 Yorkville Condominium - Toronto (0010121713)
19 Duncan Street
DataBid is currently reporting on this project - 19 Duncan Street Redevelopment - Toronto (0020121514)
2221 Yonge Condos
DataBid is currently reporting on this project - 2221 Yonge Street Condominiums (0013051513)
Vita on the Lake
DataBid is currently reporting on this project - Vita on the Lake Condominium Phase 1 (0048062916)
DataBid is currently reporting on this project - Vita on the Lake Condominium Phase 2 (0055090216)
160 Front West Office Tower
DataBid is currently reporting on this project - 160 Front Street West Complex - Toronto (0027121614)
150 Redpath Condos
DataBid is currently reporting on this project - 150 Redpath Condominium Tower 2 - Toronto (0011021213)
100 Queens Quay at Sugar Wharf
DataBid is currently reporting on this project - Menkes Sugar Wharf Mixed Use Community - Toronto (0039060716)

Posted by Judy Lamelza