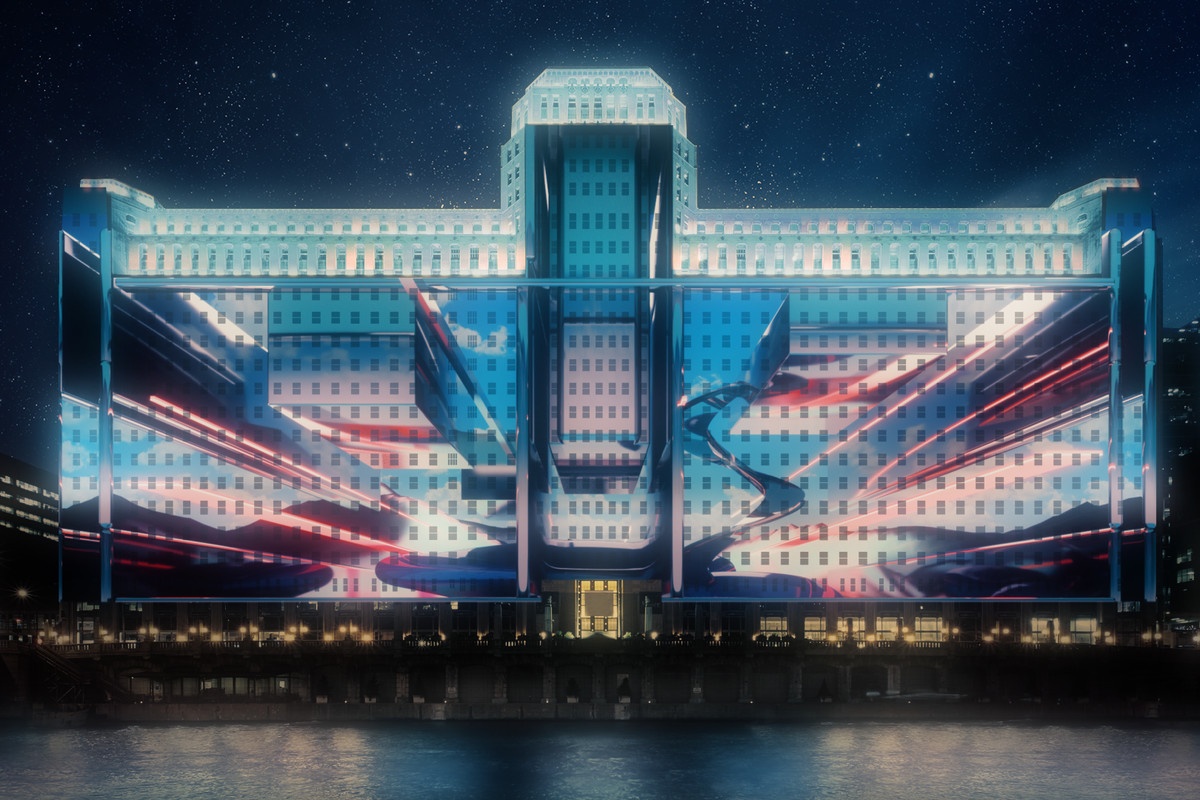 According to Chicago Curbed, the facade of Chicago's 1930 art deco Merchandise Mart will be turned into a 3 acre riverfront digital canvas. It is being called "Art on theMart" and will include 34 video projectors that will be coming out the end of September according to an announcement by Chicago Mayor Emanuel, the city's Department of Cultural Affairs and Special Events and property owner Vornado Realty Trust.
Obscura Digital is the San Francisco based company that was picked to lead the project last year. They have had experience creating similar video projects on other buildings including the Guggenheim Museum, Sydney Opera House and the Vatican. These, however were all temporary installations. "Art on theMart" will be the largest permanent installation of its kind in the world. Obscura will be in partnership with Valerio Dewalt Train Associates, a local architecture firm.
The display will be entirely devoted to public art and will have no commercial branding or sponsorship. The City of Chicago and the Mart's owners will commit to a 30 year agreement to expedite the project and pending City Council approval. The installation will cost $8 million and Vornado will cover this cost as well as its estimated $500,000 annual operating costs.
Some details still need to be finalized, such as the hours of operation. The Mart's chief operating officer, Myron Maurer told the Chicago Tribune that "Art on theMart" could run two hours a night and five nights a week and perhaps 10 months out of the year. Lighting up the Mart is an idea that goes back to 2014 when the Lighting Framework Plan was commissioned by the Mayor's office and Choose Chicago. The concept at that time was to illuminate other waterfront structures such as Chicago's movable bridges, the Civic Opera House and Lower Wacker Drive.
Merchandise Mart was the world's largest building when it opened nearly nine decades ago. It holds wholesale decorating showrooms, art galleries and technology incubators. The structure was officially named "theMart" several years ago.
Per Afar, the Chicago Riverwalk consists of a 1.25 mile pedestrian stretch along the Chicago River's south bank and will display four contemporary digital art projections that will light up theMart. Using 34 high powered projectors, the large scale projections will stretch across 2.5 acres of theMart's Chicago River facing exterior which is the size of two football fields. On the last Saturday in September, the section of the Chicago Riverwalk will be closed off to traffic for a public viewing of the projections. This will begin around 7:15 pm and run for about 35 minutes before ending in a fireworks show above the commercial office and retail space.

According to the City of Chicago, September 29, 2018 is the date for the inaugural program of Art on theMart, which will feature work by four renowned contemporary artists.
"Both the Chicago Riverwalk and theMart are Chicago institutions, so it is fitting that the two will come together to strengthen the city's legacy of public art. This visionary project, led by Vornado and theMart, will quickly become a Chicago staple that helps to reshape the way people interact with the Chicago River."
Mayor | Rahm Emanuel
The Merchandise Mart is the largest privately held commercial building in the United States and encompasses 4.2 million gross square feet. It spans two city blocks, rises 25 stories and is visited by an average of 30,000 people each business day and nearly 10 million people each year. It also serves as a business hub for interior designers, architects, contractors, business owners and buyers and recently has become home to Chicago's most creative and technologically innovative companies.
Posted by Judy Lamelza