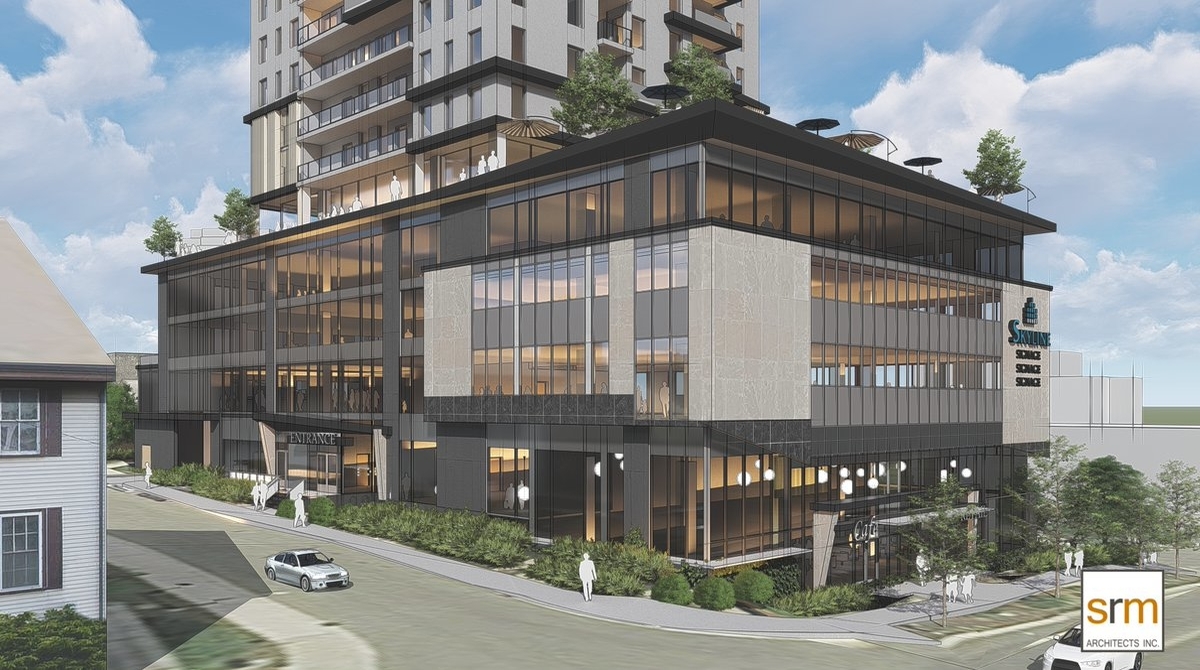 The real estate development division of the Skyline Group of Companies, Skydevco, is proposing to build a 25 storey mixed-use development in downtown Guelph. This will be Southern Ontario city's tallest building. The $75 to $100 million development will be on the current site of a Skyline corporate office at 70 Fountain St. East and 75 Farquhar St. per Real Estate News Exchange.
The building will consist of the following:
- 180 rental apartments on 20 floors
- 70,000 square feet of office space on three floors
- 4,000 square feet of ground-level retail space
- 207 underground parking spaces on four levels
- Also house Skyline's head office
This is part of an expansive plan by Skydevco to build 2,000 rental apartments in secondary markets in Ontario. Besides this development in Guelph, rental apartments are planned for Peterborough, Tecumseh near Windsor, Welland, Collingwood and Gravenhurst.
Construction is scheduled to begin in 2023 and be completed in 2025.
Skydevco has submitted an application to the City of Guelph for zoning change and official plan to allow for mixed-use development to go ahead.
The rental apartments will most likely attract young professionals and empty nesters and will range from 650 square feet for one bedroom to 750-800 square feet for two bedrooms.
The limestone and granite facade of the existing two-storey building on Farquhar and three-story building on Fountain would be maintained and incorporated into the facade of the development's podium where the offices and stores will be.
The existing buildings were designed by Guelph architect T. Allan Sage and built in 1955. The building's facade has heritage significance due to the modernistic architecture.
The development will be located next to the Guelph Central Station which provides VIA Rail, Go Transit, Guelph Transit and Greyhound bus access.
Once construction begins, Skyline employees would move into the Skyline-owned 130 Macdonell Street in downtown Guelph, a 130,000 square foot building that currently houses the head office of the Co-operators Group Insurance Company.

Ten percent of the estimated energy consumption at the development would be produced onsite through solar panels on the rooftops and building walls. There will also be heat recovery systems, Energy Star appliances, high-efficiency lighting and low-flow showerheads, faucets and toilets.
The parking area would have transportation demand management measures including transit passes, car-sharing spaces and time of day sharing between uses.
Twenty percent of the parking spaces would have electric vehicle charging stations and bicycle storage rooms and shower facilities.
There would also be one level of indoor amenities a well as rooftop amenities above the office podium.
In November, SkyDevco received zoning approval from the city of Peterborough to build 250 rental apartments in five buildings near the Peterborough Lift Lock national historic site at a cost of $70 million.
The location is at Hunter Street and Armour Road in the back of Time Square, a Skyline-owned and operated complex with about 210 rental apartments and 70,000 square feet of office space. Time Square is located in the former Westclox clock factory. Construction on that is expected to begin in the spring of 2021.
SkyDev also has plans to build two four-storey apartment buildings in Tecumseh that would include more than 140 rental units.


Posted by Judy Lamelza