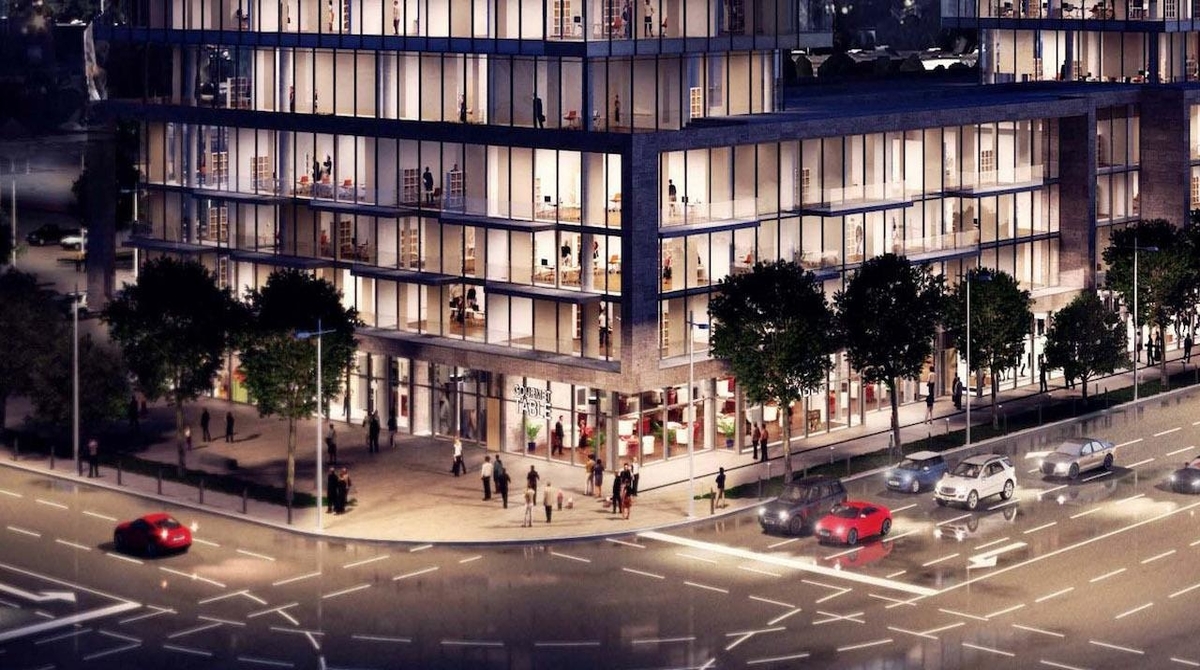 A Settlement has been reached on a revised proposal for a multi-building redevelopment of retail and restaurant pads next to the Cineplex Queensway location at Islington in Etobicoke. RioCan REIT proposed their plans more than three years ago along with Core Architects per Urban Toronto. The revised proposal will be presented to the Local Planning and Appeals Tribunal in April for ratification.
The initial proposal and the revised one both called for two sets of paired buildings. Residential rental towers of 10 and 17 storeys will rise from a shared podium at the corner of The Queensway and Islington. To the west, towers of 9 and 10 storeys will also rise from a shared podium. A park of more than 1,800 m will sit between them, next to the private road that enters into the site.
The most dramatic change in the plans will be the scaling back of the tallest tower from 20 storeys to 17. However, all of the other three towers that were originally proposed at 12 storeys have also been reduced in height to between 36.9 and 39.5 metres, and will now be the same height as the Loggia Condominiums across the Queensway to the north.
There is also a change in the unit count which has dropped from the 588 units originally down to 545. The mix of suites has changed also with three-bedroom suites up from 12 to 57, now representing 10.5% of the total unit count. The on-site park has grown from 1,343 m to 1,850 m. The ground level of the buildings include space for retail which could replace the restaurants and bank currently operating on the site, while the cineplex will continue to operate on the south side of the lot next to the Gardiner Expressway.


According to Toronto.com, the city had previously opposed the Queensway condo plan due to the proposed buildings' heights, massing, site organization and undersized, encumbered public park. A city planning staff report indicated that the proposed heights, particularly of the 20 storey tower, were not in keeping with the existing or planned context for the Avenues area along The Queensway according to the Official Plan policies.
Per Condo Now, this mixed-use development will bring luxury residences to an already flourishing retail and services strip as part of a 4 building plan.
The community at 1001 Queensway is located close to downtown Toronto with many transportation options. There is the Islington Subway Station which is 12 minutes away but most errands can be accomplished on foot since the location is a very walkable area in Etobicoke. Residents will enjoy living near Queensway Park which will have 2 baseball fields and a tennis court that will change into a hockey rink when the weather calls for it.
Get Qualified Leads from DataBid
Posted by Judy Lamelza