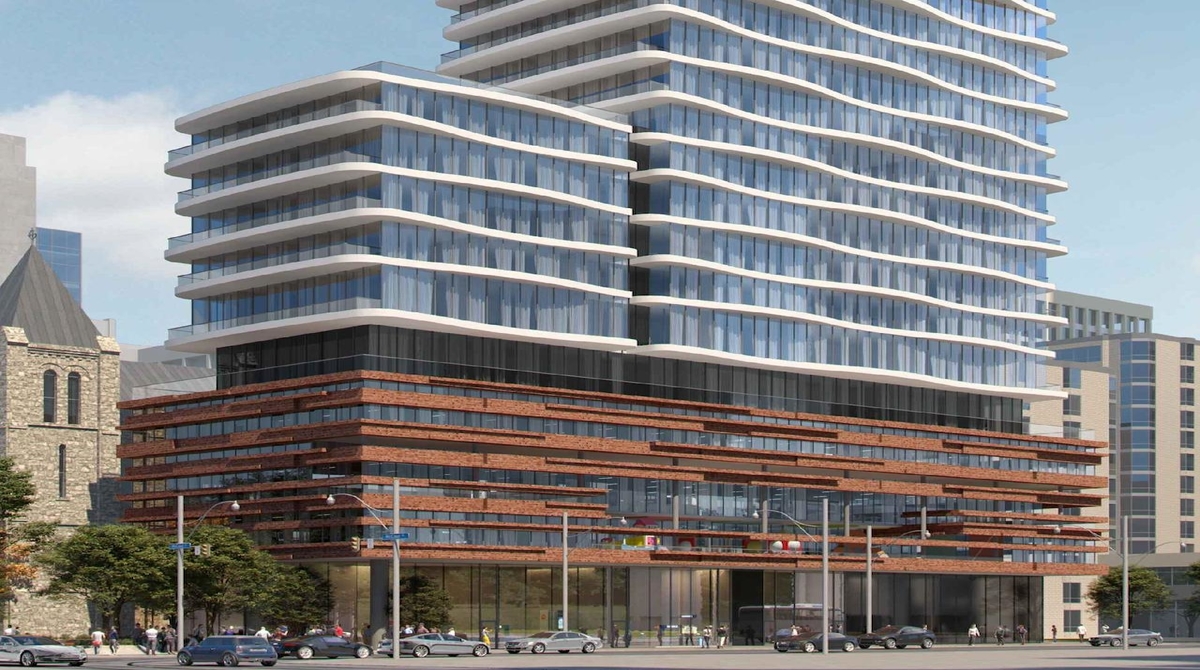 A revised proposal from Tribute Communities and Greybrook Realty Partners was submitted to the City of Toronto for 292 Dundas West. The new plans call for 29 storeys instead of the previous 38 storey tower. This comes with a new design and other changes to the gross floor area and unit count according to Urban Toronto.
Looking For Details On All Current Office Construction Projects In The Toronto Market?
Graziani + Corazza Architects worked on the new design which showed the following features:
- Redesigned tower and podium form an "L" shape with building taking on a rectilinear massing wrapped in balconies with flowing curves
- Podium's lower levels clad in brick-patterned precast panels
- Above the podium, the tower would be clad in a window wall system with full height windows and grey spandrel panels and clear glass railings
- 22,966 M2 is proposed for residential space
- 1,069 M2 of community office space serving St. Patrick's Catholic Church
- 639 M2 of daycare space in the podium levels
- 192 M2 of retail space at grade level
- Residential space consists of 344 condominium units
- 19 studios, 207 one-bedrooms, 83 two-bedrooms and 35 three-bedrooms
- Three-level underground garage with 51 parking spaces, 337 bicycle parking spaces
- Vehicles access garage levels via a pair of car elevators at east end of the site
- 261 M2 park at northeast corner of Dundas and McCaul
- 60 M2 linear privately-owned public space
Per GTA Homes, This condo project is located among one of the city's most important arts and cultural districts. It is close to restaurants, galleries and shops including the Eaton Centre. It is also steps from the Art Gallery of Ontario and within easy access to Dundas Square which features concerts and festivals all year round.


Posted by Judy Lamelza