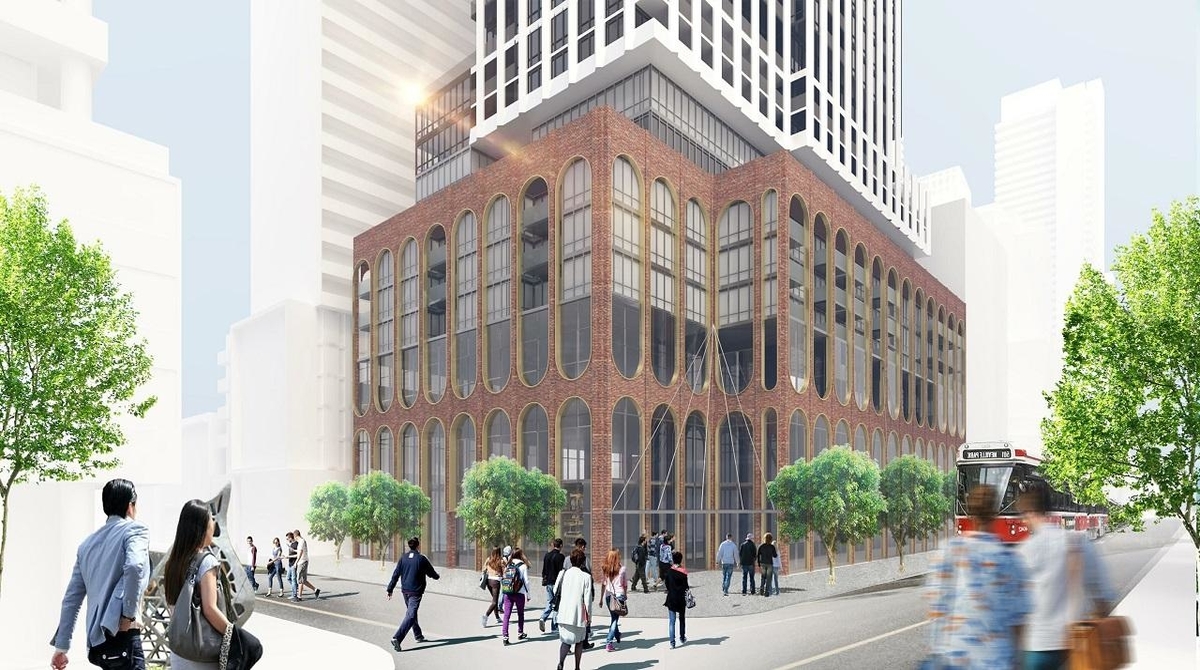 The mixed-use project at 400 King West in Toronto was initially proposed for rezoning in 2017 and then was resubmitted to the City in 2018 and 2019 and has just recently been submitted again. The November 2019 submission called for a new Quadrangle-designed proposal according to Urban Toronto.
A number of refinements have since been integrated into the design even though the plan maintains the overall concept from the March 2018 proposal which called for the building rising to 48 storeys and containing 620 units.
The building would rise 156.9 metres to the top of a mechanical penthouse level and contain a floor area of 42,066.8 m2. The residential condo space would take up 38,575.62 m2 or 91.7% of the total. The podium would house 2,517.5 m2 of retail space and 973.7 m2 office space. Above the podium, the residential floors would consist of the following:
- 218 studio units
- 129 one-bedroom units
- 211 two-bedroom units
- 62 three-bedroom units
The most outstanding feature of the architectural diagrams is a podium clad in a frame of brick-embedded precast panels forming a pattern of capsule-shaped, multi-storey openings for windows and balconies.
Above, the tower would be finished in a frame of white precast panels around a window wall cladding system with vision glazing and back-painted glass spandrel panels.
The complex would also include the following:
- Three-level underground garage
- 118 parking spaces
- 93 for residential use
- 25 for retail and visitor uses
Plans also included a minimum of 22 and maximum of 25 public parking spaces that would be sold to the Toronto Parking Authority as part of the rezoning settlement
The developer on this project is Plaza and the architect is Quadrangle.
Posted by Judy Lamelza