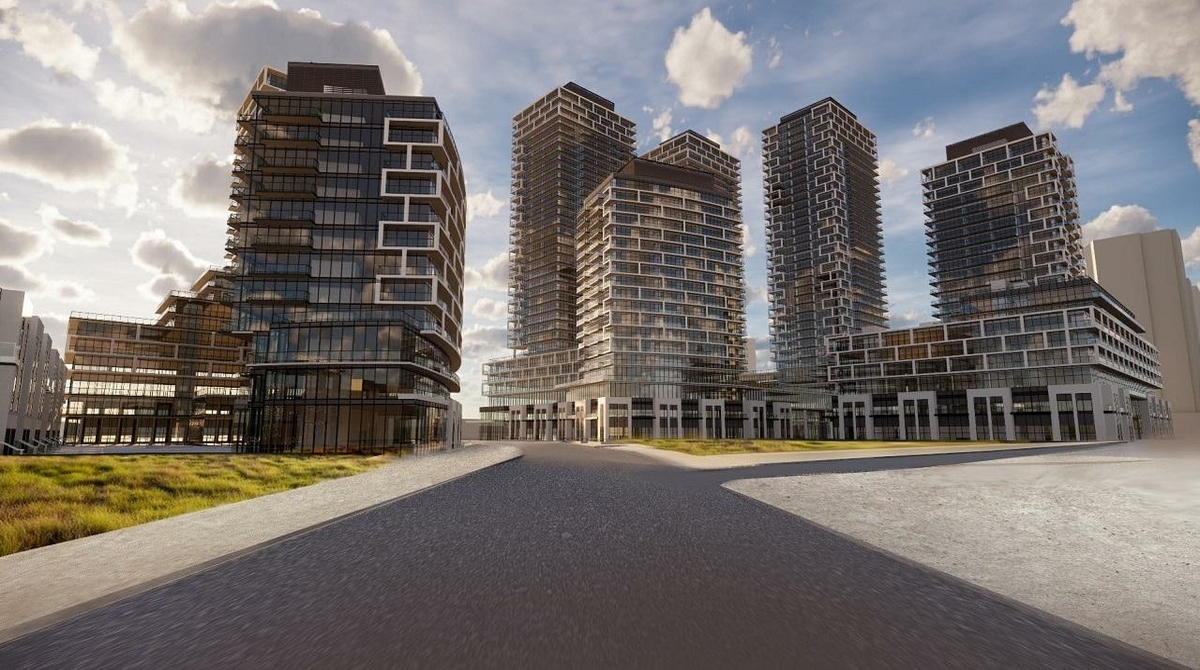 Plans to build a 6 tower condo development in Mississauga have been revised and resubmitted to the City. The location is 91 Eglinton Avenue East, just east of Hurontario Street and a few blocks north of Highway 403. The developer is Liberty Development according to Toronto Storeys.
If the new plans are approved, you will see a series of DIALOG-designed condominium towers and townhomes.
The plans were originally submitted in 2018 and have gone through revisions in January and June of 2019 with the last one being in February 2020.
The new proposal has been scaled down from the previous one. The updated plan calls for six towers and townhomes of lower heights which would consist of 13, 19, 24, 25, 35 and 37 storeys.
The project would also include the following:
- 11.93 acre site
- Public parks and a childrens' play area measuring 3,286.5 m2 and 1,297 m2.
- Total number of units would be 2,433
- Mixture of bachelor, 1-bedroom, 2-bedroom and 3-bedroom suites
- Indoor and outdoor amenities for residents
- Bicycle parking
- Vehicle parking throughout the grounds
Per Urban Toronto, the original plan called for building a group of six condominium buildings with 2,668 units and heights of 28, 33, 35, 40, 40 and 45 storeys, 14 three-story condominium townhomes, four three-storey common element condominium townhomes and a public park.
The buildings would be spread across three lots and would be divided by a future northerly extension of Thornwood Drive and a new east-west oriented private street. The public spaces would be integrated into a wider landscaping plan by Terraplan/Studio TLA.
Architecturally, there would be a mix of materials with a mix of glazing and white brick veneers for the bases of the buildings. Towers would be clad in a mix of window wall cladding with vision glass and spandrel, glazed balcony railings, white aluminum panels and slab edge covers.
No completion date has been announced as they are waiting for approval.
Posted by Judy Lamelza