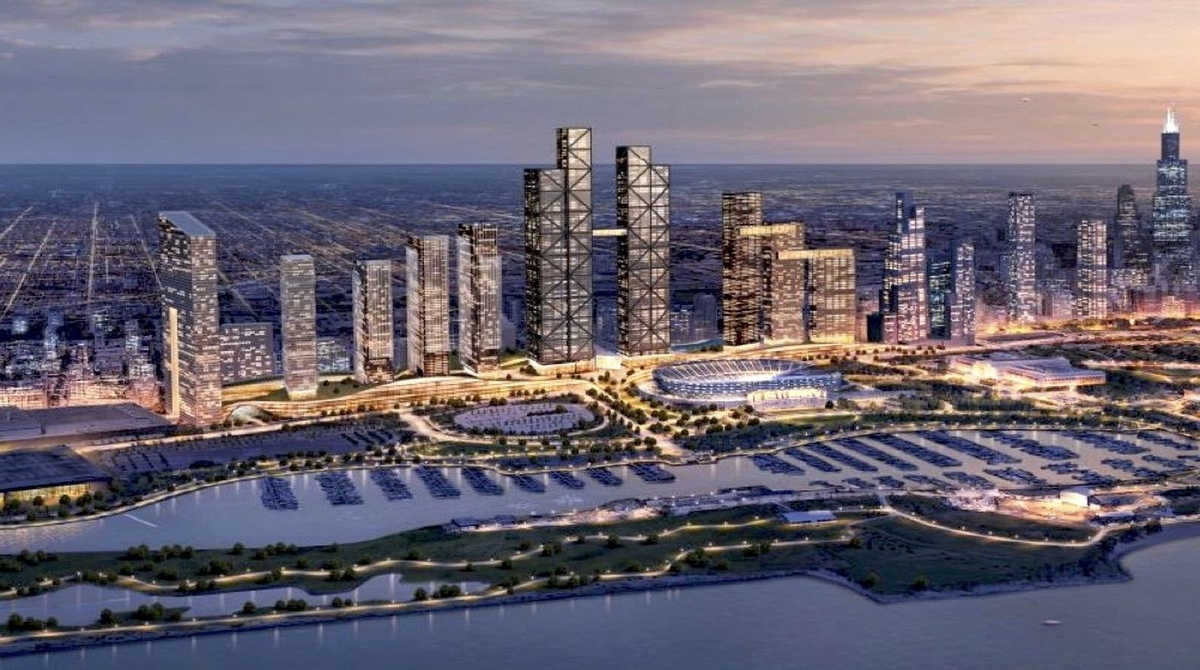 A mega development was unveiled two days ago that could transform Chicago's near South Side. This ambitious project is being planned for Lake Shore Drive next to Soldier Field. The 34 acre proposal known as One Central would cap the Metra tracks with a 50 foot tall deck topped by multiple skyscrapers, public open space and a pedestrial bridge connecting the South Loop to the lakefront per Chicago Curbed. This mixed-use development would also include a transportation hub for Metra, CTA and Amtrak trains and a Chi-line circulator that would use the sunken busway between Millennium Park and McCormick Place.
There is still no firm plan and quite a few of the specifics have not been worked out yet. Specific building heights and densities are still vague. The presentation did include conceptual renderings showing ten skyscrapers with some appearing to tower over the nearby 896 foot tall Nema project.
Third Ward Alderman Pat Dowell tried to ease neighbors' concerns and explained that although Dunn's Landmark Development company controls the air rights over the tracks, the project would still need to go through many approval processes before going for a final vote by City Council.
The One Central development will take up to 15 years to complete according to the developer. In the meantime, it will face competition from other Near South Side megaprojects such as The 78, the Burnham Lakefront at the Old Michael Reese Hospital site and the South Bank/Riverline developments.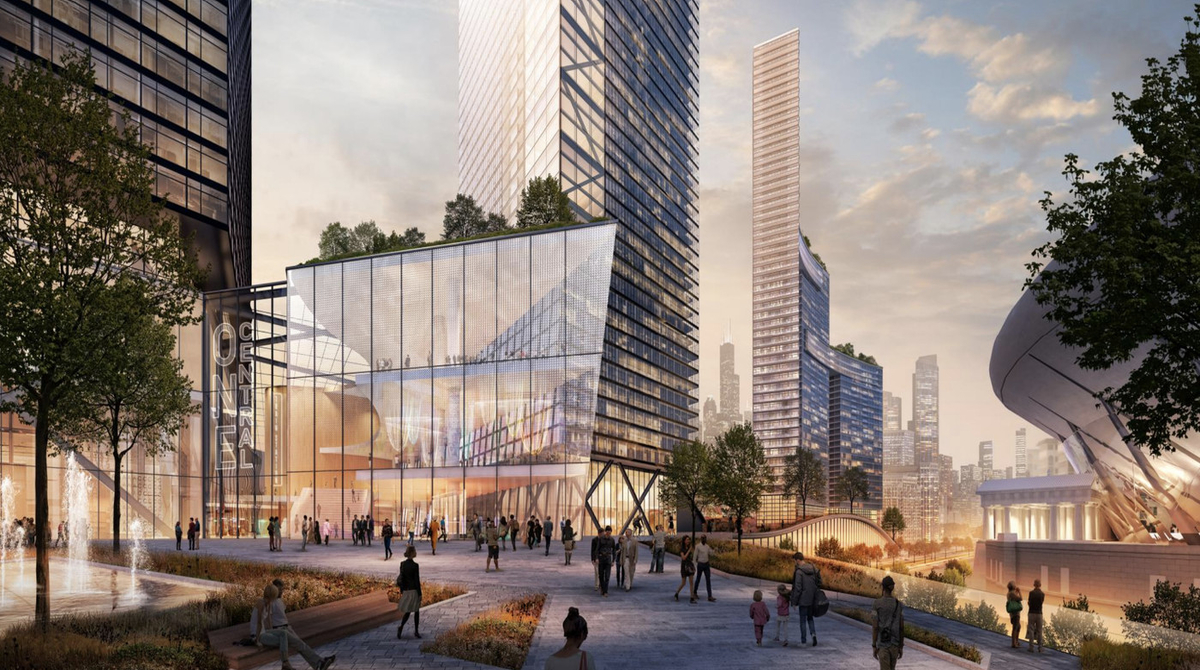 According to Crain's Chicago Business, the "One Central" development would also include a massive entertainment complex across from Soldier Field and this project could reshape the neighborhood and its connection with the Museum Campus and lakefront.
Landmark Development stated that the project could include the following:
- Residential units
- Offices
- Stores
- Hotel rooms
- Restaurants
- Entertainment venues
At 34 acres, the area could accommodate thousands of homes and millions of square feet of space. By building over the train tracks and constructing a wide, landscaped bridge that would span South Lake Shore Drive, Landmark could overcome a barrier that has separated the Central Station neighborhood from the Museum Campus and lakefront.
The bridge would provide South Loop residents with better access to lakefront parks and would link Soldier Field to the development. This could open up possibilities for the creation of a restaurant and entertainment district just west of the stadium, similar to what the Chicago Cubs have around Wrigley Field. An entertainment district would also draw visitors in town to trade shows at McCormick Place.
Developer Bob Dunn's specialty is building sports facilities. He has worked on the construction of the home stadiums of the Chicago Bears' three division rivals, the Detroit Lions, Minnesota Vikings and Green Bay Packers. He was part of the team that oversaw the creation of the Atrium which is a dining and entertainment complex that is attached to Lambeau Field in Green Bay. Dunn stated that he sees a bigger version of that kind of district next to Soldier Field.
When asked how much this project would cost, Dunn could only say that the figure would stretch into the billions. Landmark's development team, which includes architecture firm Perkins & Will is still in the early stages of planning it and needs input from the city and public before presenting a more detailed proposal.
There is one aspect of the project that Landmark was certain about and that is that he will not seek tax-increment financing from the city to help pay for any of it. This could, of course, mean lower profits but it could also mean fewer headaches for Landmark. This is a touchy subject in Chicago. Chicago developer Sterling Bay could be looking for more than $900 million in tax increment financing for its Lincoln Yards mega project on the Near North Side and is facing so much opposition to its plan because of this.
Landmark is joining Chicago developer Gerald Fogelson, who built the massive Central Station project just to the west. Fogelson owns the air rights to develop over the train tracks and started looking for a development partner more than three years ago and eventually reached an agreement with Landmark.
See DataBid Blog titled - 43 Acre Development to be Built near Soldier Field
Learn About all the Mixed-use Projects Coming Up for Bid
Posted by Judy Lamelza