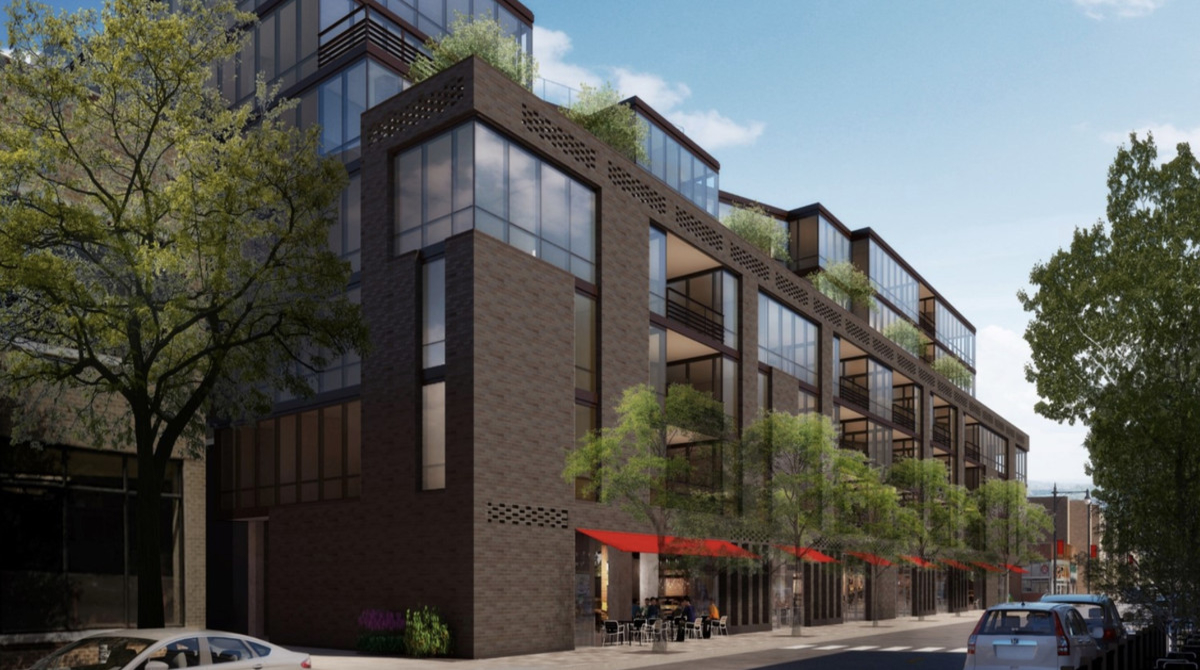 Developer-architect Optima, Inc. has submitted a proposal that was approved by the Chicago Plan Commission for a 7 story transit-oriented apartment development at 3460 N. Broadway in Lakeview. This project has the potential to transform a stretch of Broadway left vacant after the Treasure Island grocery store closed in 2018 per Chicago Curbed.
Some changes have been made to the original design and the project will now include 208 rental units and 97 parking spaces. The building is smaller than the eight story proposal submitted previously.
The earlier design was for 250 apartments and featured a sawtooth all-glass facade fronting on Broadway. The new proposal now has a more flattering street-facing elevation and some of the sections of glass from the previous plan now have swaths of dark brick and in-set balconies.

Some neighbors had complained about the original plan due to the project's height and density according to the Chicago Tribune. A petition had been signed by 500 neighbors and sent to the office of 44th Ward Alderman Tom tunney.
The current version of the Optima Lakeview Plan will still require additional votes by the Chicago City Council for the requested zoning change to take effect.
Optima paid $12.85 million to the Kamberos family, Treasure Island's owner for the North Broadway store and parking lot back in July 22nd.
Optima's other projects include larger residential towers in Streeterville and along the Edens Expressway in Skokie. They have also designed and built many smaller condo and townhouse properties throughout the suburbs, as well as in Arizona.
Databid is currently reporting on this project - Optima Lakeview Transit Oriented Development - Chicago (0044071219)

Posted by Judy Lamelza