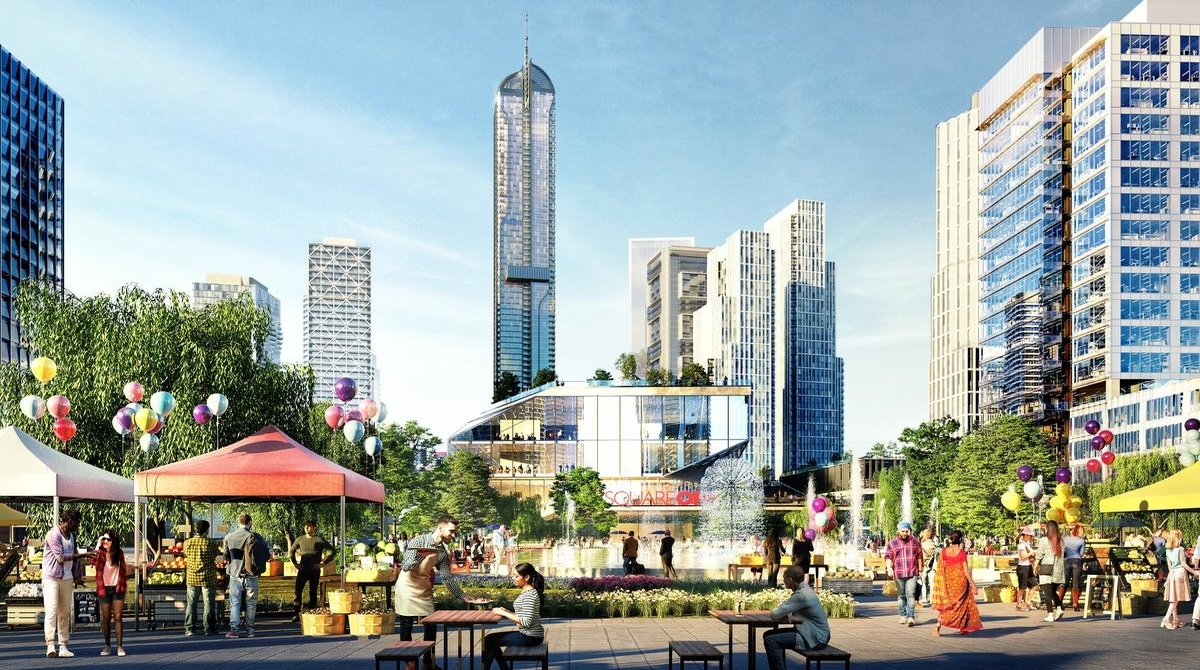 Oxford Properties Group and Alberta Investment Management Corp, better known as AIMCO, are planning to transform 130 acres in downtown Mississauga into a sprawling 37 tower development.
Eric Plesman, executive vice-president and head of North America for Oxford Properties stated that their plans will repurpose land that is currently being used as parking lots that ring the popular Square One shopping centre in downtown Mississauga into the largest mixed-use development in Canadian history per On-Site Magazine.
"Our ambition is to build a community that more than 35,000 people will be proud to call home. This new community will support employment with world-class office space to help businesses grow while maximizing the positive impact of new transit being developed in Mississauga. It will be a place where business, life and leisure can come together as one."
Executive vice-president & head of North America for Oxford Properties | Eric Plesman
This development will include 18,000 residential units with more than half being rental apartments. The area goes from Burnhamthorpe Road to the south, Confederation Parkway to the west, Highway 403 on the north end and City Centre Drive to the east. Mississauga is Canada's sixth largest city and is expected to grow in population to be near one million by 2041.

Construction is already on-going on the first two towers of this $3.5 billion complex. The 48 and 36 storey buildings will house nearly 1,000 condo units together with construction expected to really get underway this summer. Oxford and AIMCO have partnered with Ontario-based builder Daniels Corp. on two of the towers.
Square One District will include the following:
- Transit hub
- Civic space dubbed the "Strand"
- Parks and community buildings
- Office space
The developers will be working on another 5,000 residential units over the next five to seven years. This project will produce 6,500 direct jobs over the first five years.
According to Urban Toronto, the project was master-planned by Hariri Pontarini Architects. At the centre of The Square One District is a space called "The Strand" which is located along Rathburn Road just west of Hurontario Street. The Strand will serve as the anchor of pedestrian activity with the city. The space would feature street level retail, walkable parks, public art, and a transit hub that would connect to the future Hurontario LRT and local MiWay bus service.
Oxford has already received approval for phase one of the project, a pair of IBI Architects-designed residential towers anchoring the northwest corner of the Square One District. DTAH is the landscape architect and Mason Studio is overseeing interior design. The two towers will begin sales as early as April 2020.
Per Real Estate News Exchange, condominiums at Square One District's suite mix will range from 444 square foot studios to 844 square foot two-bedroom plus den units. No prices have been announced.
The condo will have about 8400 square feet of retail at grade. It's amenities will include the following:
- A co-working zone
- Community urban gardening plots
- A garden preparation studio
- An indoor/outdoor fitness centre with a full-court gym
- A lounge
- Media and dining studios
- Catering kitchen
- Indoor/outdoor kids zone
The purpose-built rental building suite mix will range from 408 square foot studios to 1,121 square foot, three-bedroom units.
Mississauga has been badly in need of new housing and particularly rental options. The rental apartment vacancy rate is very tight, at just 1.5 per cent.
The mayor of Mississauga, Bonnie Crombie, had stated that we can no longer ignore the housing crisis sweeping the GTA and that this is an issue that requires governments and developers to work together.


Posted by Judy Lamelza