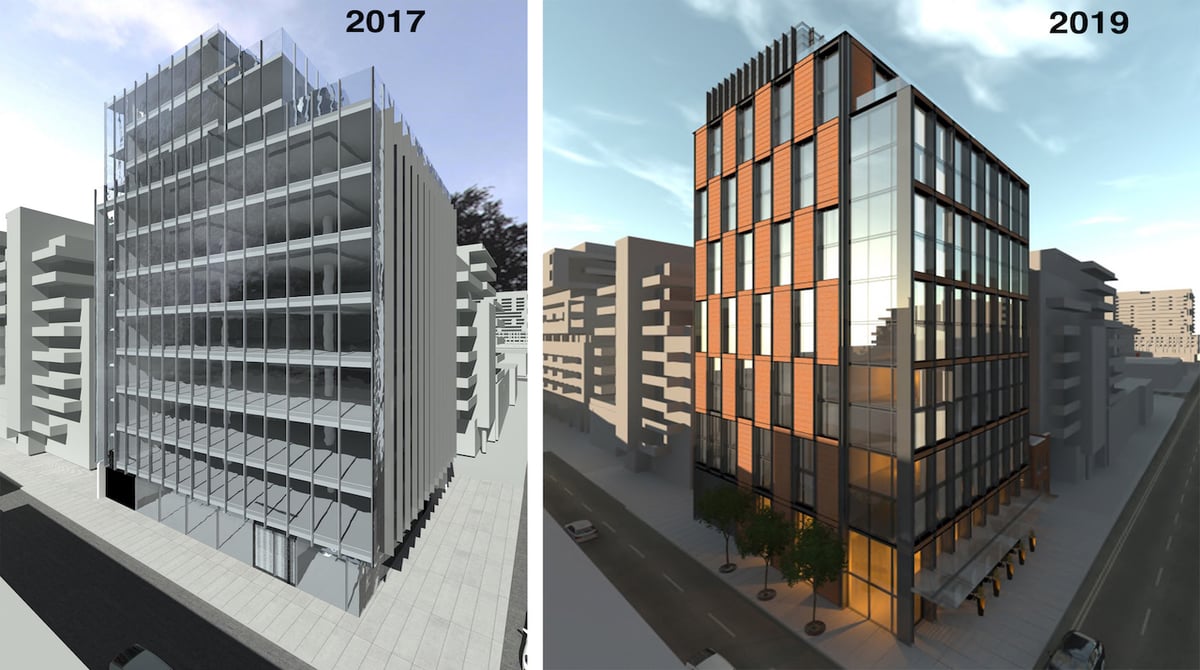 In 2017, a proposal was submitted for a mid-rise office building at 445 Adelaide West at Morrison Street in Toronto but it still remains under appeal at the LPAT, but has now been resubmitted for rezoning with a new plan for a hotel instead with a new design by architectsAlliance. They want to build a 146 suite hotel with restaurants, a cafe and other amenities on the lower levels per Urban Toronto.
This will be sbe Hotels' first property in Toronto. Sbe is a global lifestyle hospitality firm built by Sam Nazarian and 50 per cent owned by Accor Hotels.
The project was originally proposed to rise 11 storeys with typical floor heights of 3.6 metres but has been updated to 14 storeys with floor heights of 2.95 metres.

The new design calls for a checkered pattern tinted metal panels on the east, west and south elevations with a north facade clad mostly in window wall with projecting horizontal and vertical metal accents framing the windows. A treatment of windows wrapped in vertical metal louvres is also planned for the penthouse.
Some other new amenities on the four underground levels are as follows:
- Restaurant on the B1 level
- Meeting rooms on level B3
- Another restaurant on level B3
- Fitness room on level B4
- Preparation kitchen on level B4
- Hotel storage on level B4
- Guest parking on level B2 offering just 11 parking spaces
According to Ontario Construction News, the site for the hotel is currently occupied by a couple of 100 plus year old buildings.
The 75,000 square foot hotel is being developed by Lamb Development Corp. and IE Hospitality and is scheduled to be open by 2024.
The hotel's design includes lead architect Peter Clewes from architectsAlliance. The Design Agency will oversee interior design and the project's engineer is Counterpoint Engineering.
The development is subject to municipal approvals with hearings scheduled for the spring of 2020.


Looking for more local Ontario Projects
Posted by Judy Lamelza