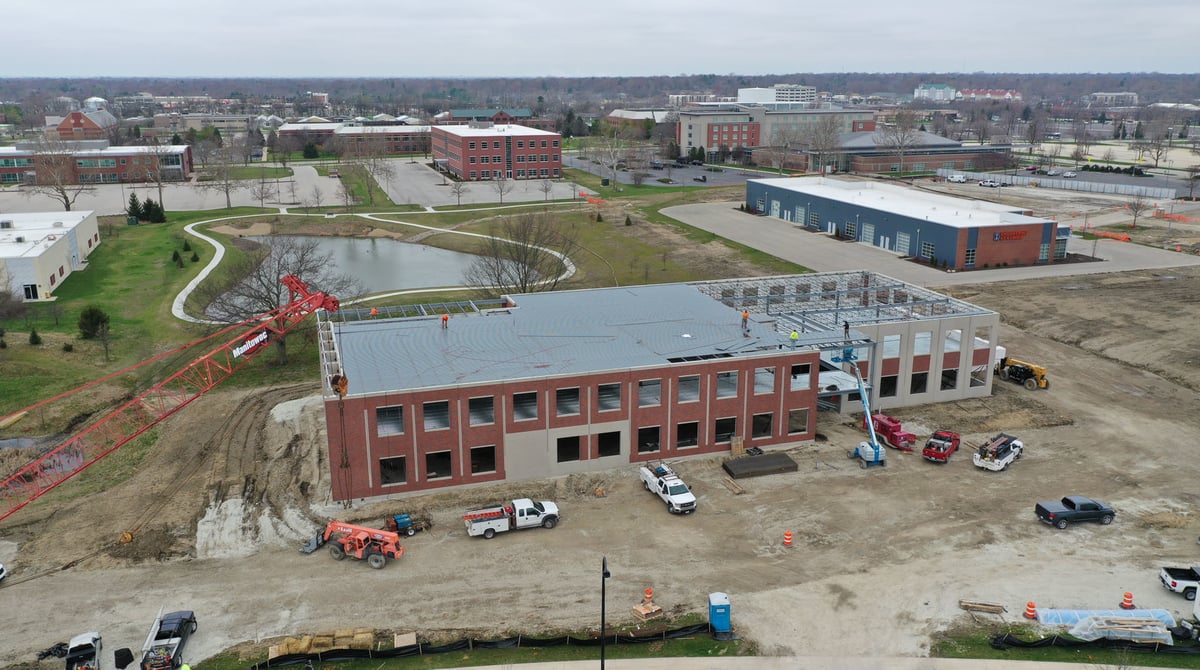 Construction work is continuing as the walls are starting to go up at 1907 S. Fourth Street in Champaign. This is the newest building in the Research Park. It is scheduled to open for occupancy in August. The developers are Fox/Atkins Development per Research Park Illinois.
This new two story 40,000 square foot commercial office building will house tenants whose work supports the mission of the Park. The project will feature the following:
- Flexible-size suites ranging from 2,500 to 8,000 square feet
- Ample parking
- Custom lobby
- Lounge area
- Park like setting with walking paths and landscaping
- Wi-Fi access throughout the facility
- Fiber optic telecom
The Research Park has more than 120 companies and employs over 2,100 people in high-technology careers. The following multinational and publicly traded corporations in Research Park are:
- ADM
- Abbott Laboratories
- AbbVie
- AGCO
- Ameren
- Bayer
- BP
- Brunswick
- Capital One
- Caterpillar
- CME Group
- Corteva AgriSciences
- Deere & Company
- Graybar
- Littelfuse
- NVIDIA
- Forcepoint (subsidiary of Raytheon)
- Riverbed
- State Farm
- Synchrony
- Yahoo (Verizon Media Group)
The Research Park also has over 50 start-up companies that are commercializing technology. EnterpriseWorks, the Park's 43,000 square foot business incubator for early-stage tech firms, is operated by the University of Illinois to help launch successful scientific and research based startup companies.
Fox/Atkins has constructed 15 of the Research Park's 17 buildings, transforming the land from fish ponds, agricultural fields and livestock barns to a thriving, supportive environment for the modern tech workforce.
Fox/Atkins has been instrumental in implementing the community amenities of the Research Park. The addition of the iHotel and Conference center, a joint project between the university and the developer, has become a critical component of the Park's ability to serve its community.
Posted by Judy Lamelza