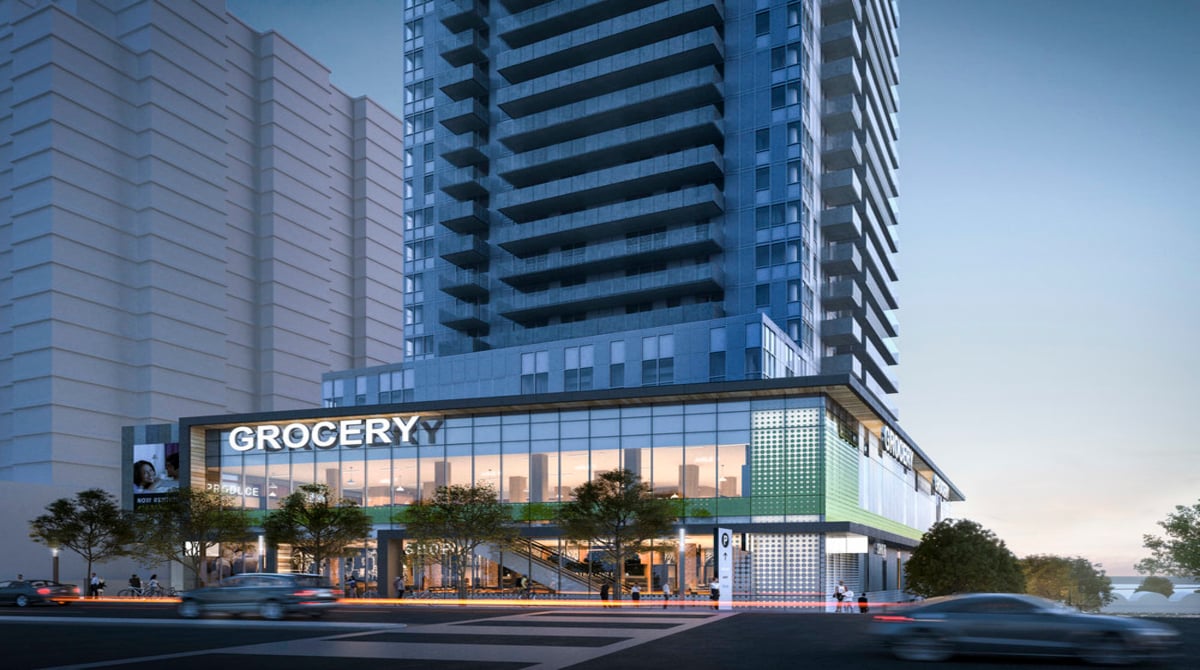 A 40 storey apartment tower is taking shape next to the Kipling subway and GO station in Etobicoke. Main and Main is the developer and Diamond Schmitt Architects designed the tower at 5249 Dundas West which is the former site of a trio of two storey buildings.
The following progression has taken place:
- Preliminary site work was started about two years ago and the new tower is climbing vertically as the exterior finishes are appearing according to Urban Toronto.
- Excavation was completed in mid-2018.
- Installation of a tower crane and the tower's underground levels were formed. This was completed in early 2019.
- By the summer of that year, forming of the retail podium was underway and was wrapping up towards the end of August.
- The tower began to rise from the podium and is now at 16 storeys above Dundas West.
- Installation of exterior finishes has been ongoing since November and are now covering large sections as high as level 8.
- Primary building envelope is a window wall system with reflective blue glazing and a mix of black and white spandrel panels framed in thin aluminum mullions.
Construction is anticipated to finish by February 2021. Once work is complete, the project will introduce 376 new rental apartments as well as three levels and over 53,000 ft2 of grocery-anchored retail space to the Six Points area.
Learn About All The Mixed-use Projects Coming Up For Bid With A Free Trial From DataBid
Per Main and Main, Ontario-based grocery chain Farm Boy will be on the ground floor of the building and has announced plans for seven new stores in the Greater Toronto Area, including locations downtown and in the Yonge and Eglinton midtown neighbourhood popular with millenials.
According to The Star, Farm Boy stores range in size from 12,000 to 38,000 square feet and will feature the company's core products along with private label specialty products.
The stores will also feature a kitchen with a fresh salad bar, hot bars and a casual restaurant experience that includes pizzas and sushi.
DataBid is currently reporting on this project - Dundas & Aukland Mixed Use - Toronto (0027082417)


Posted by Judy Lamelza