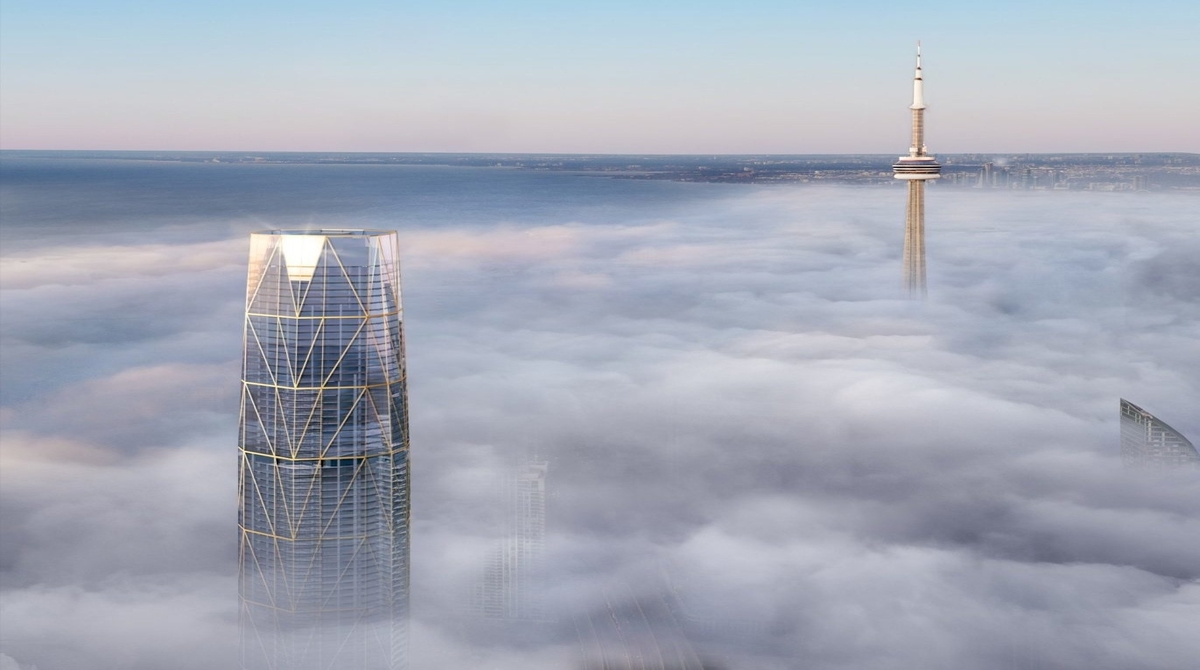 Developer Pinnacle International has revealed what will become Canada's tallest residential tower at just over 1,027 feet tall. The architect is Hariri Pontarini Achitects. The 95 story building will be called SkyTower and will be part of a three-tower luxury condo development called Pinnacle One Yonge. SkyTower will anchor the 4.4 million square foot waterfront site per The Architect's Newspaper.
Hariri Pontarini conceived the masterplan and designed the trio of high-rise buildings. The first tower dubbed 'Prestige' is 65 stories high and currently under construction. SkyTower will feature 800 units ranging from 520 square feet to 2,300 square feet and will begin its build-out soon.
The development is yards away from Toronto's CN Tower and will dramatically change the skyline. One Yonge will be connected to a public transit system and include improved pedestrian and cycling access by widened sidewalks, a 2.5 acre public park and an inner courtyard. The only other building that will be taller than SkyTower will be the CN Tower.
At the base of SkyTower, is the Prestige, which is in construction right now. This future 80 story structure slated for the northern corner of the site will have multi-level podiums connected by glass atriums, wide walkways and international gathering spaces. These areas will also include the following:
- 160,000 square feet of retail
- 50,000 square foot community center
- 250 room hotel
- Over 2,200 condominiums across all the towers
- 2.5 million square feet of office space
Two other sites are being planned that could be competing for the title of tallest residential complex:
- Sidewalk Labs unveiled a digital model of what could become the world's tallest tower made of timber.
- Pelli Clark Pelli proposed a 4.3 million square foot megadevelopment comprised of four glassy towers and a park just last summer. This will be built even closer to the CN Tower next to Union Park.
According to Toronto Storeys, SkyTower will offer amazing views across Lake Ontario and over the surrounding Toronto area.
The suites will be designed by Tanner Hill and Associates.The tower will feature the following amenities:
- Pool
- Yoga studio
- Games centre
- Party space
- Outdoor barbeques
- Lounge areas
Prices for the condos will start at over $800,000. SkyTower is the second of three tall towers at Pinnacle One Yonge. The details of the third tower have not yet been released.
DataBid is currently reporting on this project - 1 & 7 Yonge Street Redevelopment (0017011613)
Posted by Judy Lamelza