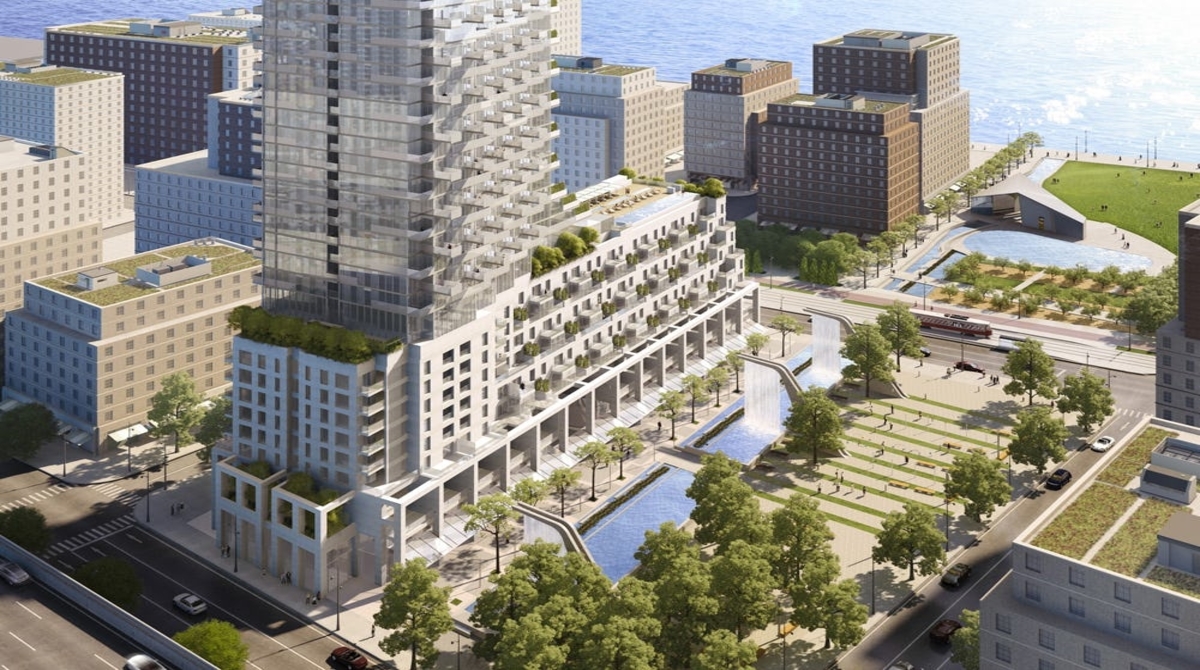 The scenic Toronto waterfront is experiencing rapid redevelopment and making it more accessible for residents and visitors. The neighbourhood used to be purely industrial and has been starting to feature stunning condos, retail, entertainment and more. It is a very desirable area that is close to downtown Toronto and to Lake Ontario. The area will span 55 acres. Queens Quay, its main street, will be pedestrian and cyclist friendly.
East Bayfront will eventually have an additional 6,000 residential units with 1,200 affordable residences per BDC Network.

One of the newly-constructed condo high-rise towers in this neighbourhood is being dubbed Monde. It is an architecturally arresting, 44 story condominium featuring the following:
- Designed curtainwall system
- Stepped with balconies for private resident access to the outdoors
- Terraces created with glass uniting the outdoors with the condo interiors
- Building was truly designed with green living and tenant experience of nature in mind.
- High performance glass across the facade to ensure that it's energy efficient while maximizing natural light and views
- 148,000 square feet of AGC ENERGY Select 36 and ENERGY Select R42 glass used to achieve the distinct geometrical profile of the structure
- Solar heat blocker, ENERGY Select 36 designed for regions where air conditioning is the primary energy source. 136,000 square feet of ENERGY Select 36 was used and its grey-blue appearance contrasts beautifully with the reflectance of the ENERGY Select R42 glass.
Monde spans 540,000 square feet and is located beside Sherbourne Common, which is known for its water channel and sculptures. This building will help to shape the new section of skyline emerging along Lake Ontario.
DataBid is currently reporting on this project - Monde Condominium - Toronto (0030053112)


Posted by Judy Lamelza