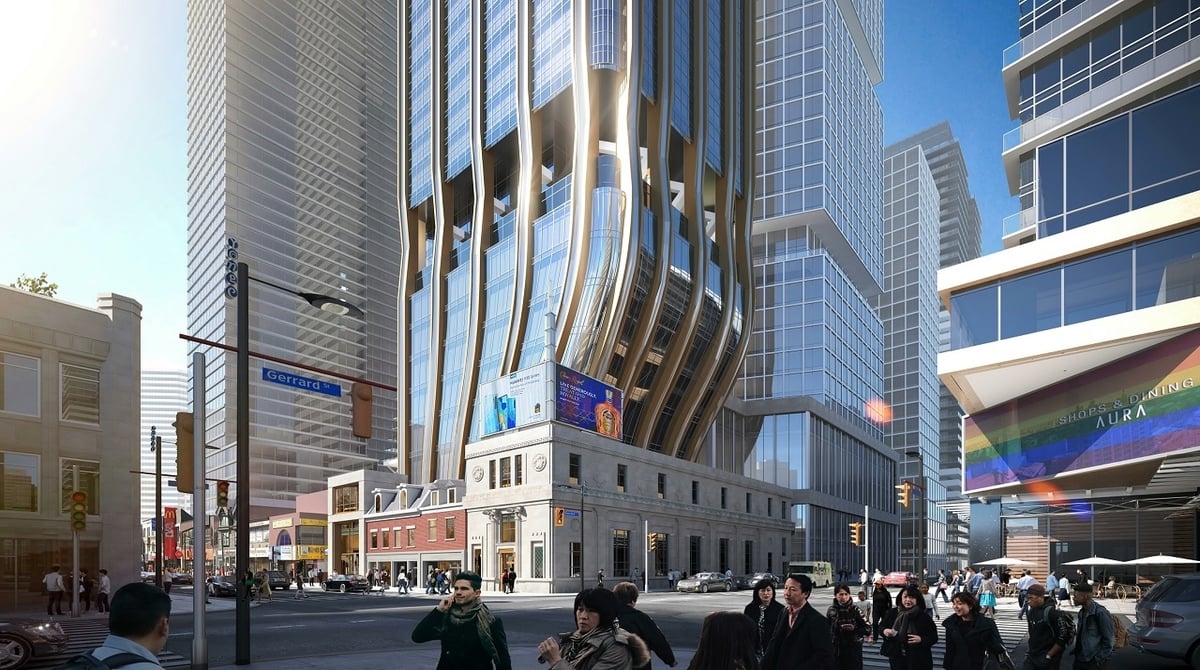 The City of Toronto has received a Zoning By-law Amendment application for building a 74 storey mixed-use tower at 372-378 Yonge Street at the southwest corner of Yonge and Gerrard. (Rendering above is designed by DIALOG and provided via submission to the City of Toronto)
Toronto Storeys stated that the project would rise 255 metres at its peak and would incorporate heritage buildings into its base, including the John M. Lyle building at 378 Yonge. This building would be retained in full and restored and the facades of the buildings at 374 and 376 Yonge Street would be maintained.
The developers are Yonge & Gerrard Partners Inc., Turbo-Mac Ltd., and Trimed Investments Inc. The tower will feature the following:
- Total gross floor area of 35,871.3 square metres
- 701.8 square metres of existing retail gross floor area
- 654 square metres of new retail gross floor area
- 2,337 square metres of office uses
- House 406 dwelling units
- 57% one-bedroom units (average size of 47 square metres)
- 29% two-bedroom units (average size of 76 square metres)
- 14% three-bedroom units (average size of 98 square metres)
Above the heritage base, which will house commercial space, additional commercial floors are planned up to level seven. The commercial part would be separated from the residences above by the first of two four-level mid-tower sections where two residential and two mechanical floors would be located.
According to an article in Urban Toronto, there will also be a four-level underground garage stretching over 12 metres below grade. The garage will house no motor vehicle parking as the location is well-served by transit since the tower is situated right between College and Dundas subway station. It would instead have three levels of bicycle parking and a single mechanical floor.
The tower will have slender massing with organic curves, clad in reflective blue curtain wall glazing and featuring an exposed structural ecoskeleton support system sporting gold metallic finishes.
Per BlogTO, the third floor of the building will have a venue dedicated to Club Bluenote which is an after-hours, rhythm and blues club that closed in 1969. Currently, a plaque sits at the front of 372 Yonge Street.
Bluenote was considered a vital part of the city's music scene when it existed between 1958 and 1969. That was when Zanzibar was still a music venue and not just a strip club. It became the spot for late-night sets and the petri dish for Toronto's rock'n'roll identity.
DataBid is currently reporting on this project - Yonge & Gerrard Mixed-use - Toronto (0016080520)
Posted by Judy Lamelza