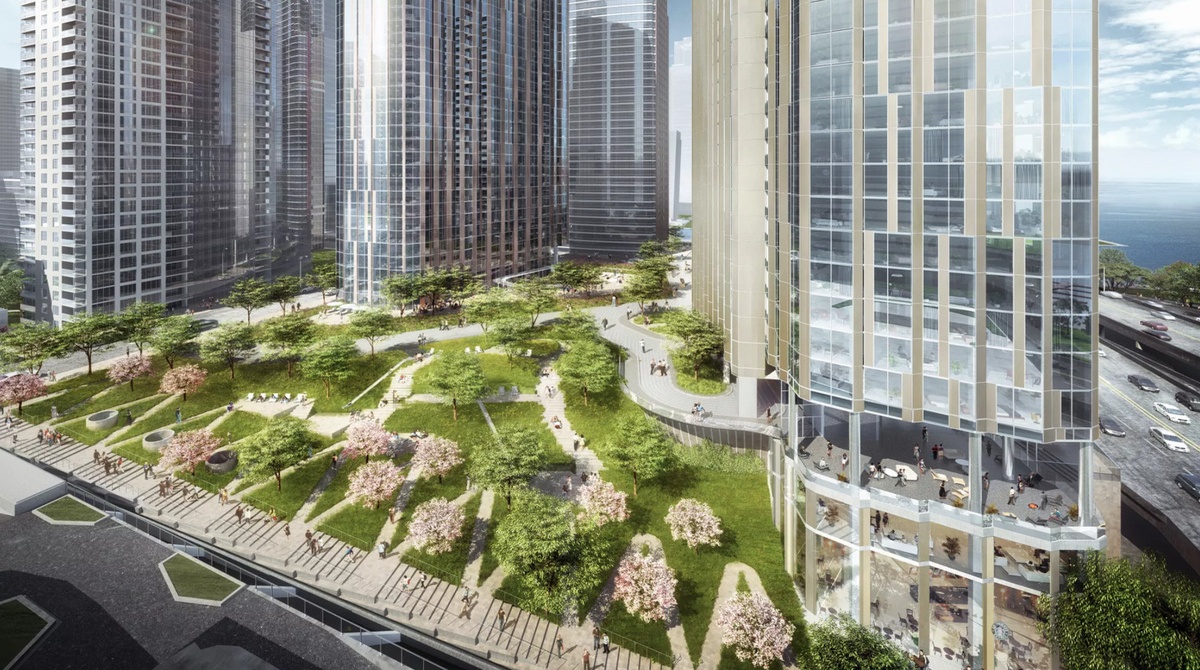 According to Chicago Curbed, in December, 42nd Ward Alderman Brendan Reilly rejected Lakeshore East's plan for their largest undeveloped site. The updated plan from the Magellan Group and Lendlease proposes to incorporate the feedback and concerns of the community. The proposal is for the Lakeshore East's vacant "I, J, K, and L" parcels located at 197-301 N. Harbor Drive and 452-500 E. Waterside Drive. The original plan was introduced to the public in July 2017 and included a trio of towers designed by bKL Architecture. The towers rose 80, 50, and 40 stories. These towers were combined with 130,000 square feet of green space which included a dog park, a walkway and a staircase connecting the neighborhood to the lakefront. The updated design calls for smaller ramps and more active use of the green space. There will now be three "outdoor living rooms" for picnics, sunbathing, etc. Also new video cameras, fencing, upgraded lighting and a single access point with a manned security post.
The concerns about the original plan were the pedestrian circulation, garage access, site security and the need for more separation between the skyscrapers and the existing residential buildings, according to Alderman Reilly.
The revised plan for parcels I, J, K and L calls for 1,700 combined residential units. While this is more than the earlier count of 1,400, there is no mention of the old proposal's 300 hotel rooms. This looks as if the hotel component has been eliminated in favor of additional residences. The amount of retail space remains at 30,000 square feet. Parcel J building will now be moved 15 feet to the north to separate it from the existing residences. The project will still include the new retail space and concealed parking for up to 1,250 cars.
Little has been heard regarding LSE's vacant Parcel O, which is a narrow plot of land located between Aqua tower and the Blue Cross/Blue Shield Building. Magellan Development proposed another bKL designed building which will hold 643 residences, two hotels and 14,000 square feet of retail. Parcels I, J, K, L and O are the last undeveloped pieces of the Lakeshore East materplan. This was originally occupied by a rail yard and later as a small golf course. The downtown area is also home to the Vista Tower which is presently under construction and will become Chicago's third tallest building when it is completed in 2020.
"This is a pivotal site that we believe completes a symbolic gateway to the downtown core. But, perhaps more importantly, it adds vibrancy, open space and connectivity between the waterfront and the community."
bKL Architecture Boss | Thomas Kerwin
The developers hope to begin work on the shorter rental building at Parcel K/L and the condo building at Parcel J as soon as the plan is approved. Phase two will include the 80 story condo tower at Parcel I. Construction is expected to take between 5-7 years.
Per the Chicago Tribune, Alderman Reilly said he will try to get feedback from his constituents but he believes the project will be approved. It still needs to move through the city's zoning process and then with a City Council vote. Reilly said, "We've made a tremendous amount of progress and I think this project is in position to be approved before the end of the year."
Magellan and investment partners stated that in the first 16 years of developing Lakeshore East, they have completed eight residential towers and a 6 acre park, town homes and retail including a Mariano's grocery store. Lakeshore East runs along parts of Randolph Street and Lake Shore, Wacker and Columbus drives.
Databid Inc. is reporting on this project. See Project No. 0048062717 - Lake Shore East Mixed Use Development.

Posted by Judy Lamelza