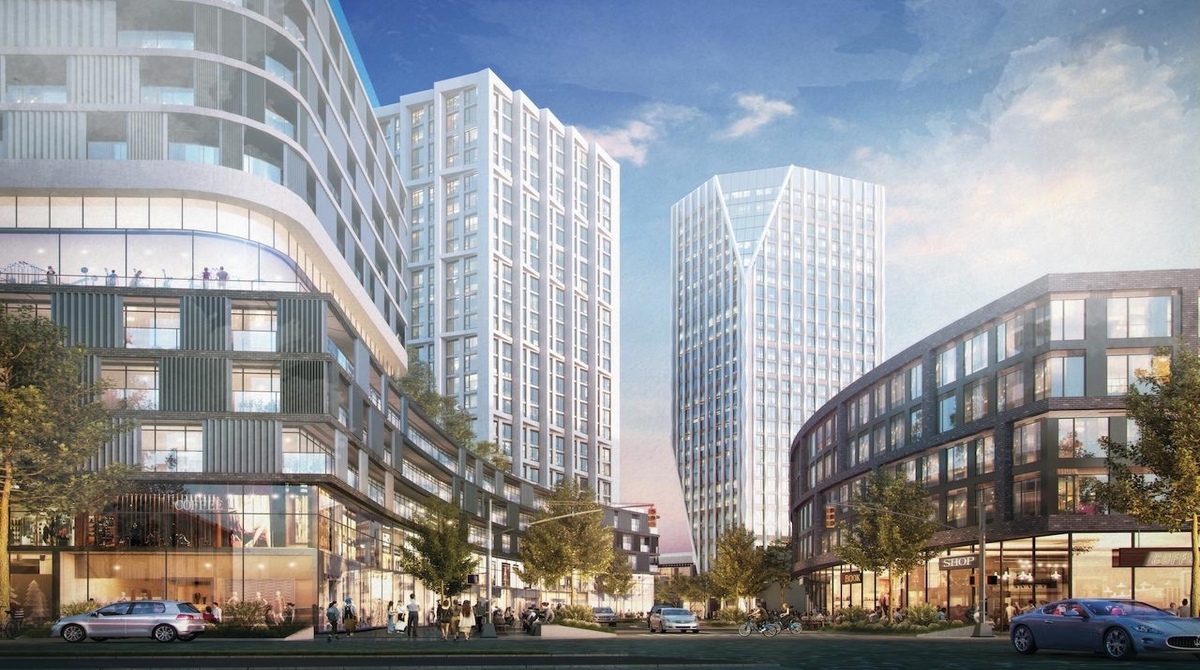 RioCan REIT is planning to redevelop Shoppers World which is located at the northwest corner of Main Street South and Hurontario Street in Brampton at 499 Main Street. His plans call for an entire neighborhood of new high-rise, mid-rise and townhome buildings connected to a new road network and public spaces. The designer of the project is Quadrangle according to Urban Toronto.
The development will encompass a total of 380,000 m2/4,090,286 feet, including 88,000 m2 of non-residential and 295,000 m2 of residential floor space. This will account for approximately 5,000 units spread across buildings ranging from three to 28 storeys tall.
A significant part of the residential component would be built as rental housing although the breakdown is likely to change as the development evolves. The plan suggests a balanced mix of one, two, and three-bedroom apartment and townhouse units.
The 58 acre site would be criss-crossed by four new public streets tied into the surrounding area. The streets would form a grid framing eight mixed-use and residential development blocks and one public park block.

Some of the landscape elements that will tie the community together include an expansion of the existing Kaneff Park at the west end of the site, a series of hardscaped public plazas connecting the Brampton Gateway Transit Terminal to a proposed retail 'high street' and central square, and several green courtyards, pocket parks, and landscaping along the streets.
The full build out of the site could take 25 to 30 years. RioCan's leasing agreements with existing Shoppers World tenants will have a major impact on the phasing plan. The site's southwest corner will be the location of the project's initial phase which could begin as early as next year.
Per BlogTo, this project will replace the 781,000 square foot Shoppers World, its 190 stores, parking lot, and its surrounding parking lot with eight new blocks which will house commercial and residential buildings.
It is still unknown whether the leasing agreements of the stores in Shoppers World will involve relocation into the new mixed-use properties when they're finally built.



Posted by Judy Lamelza